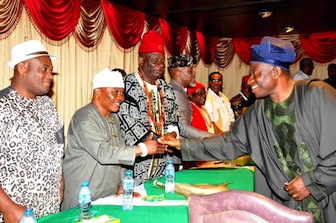 President Goodluck Jonathan said on Saturday that the Federal Government would open more inland ports in the country for easy clearance of imports.
The president stated this at the State House, Marina, while he was addressing a delegation of the Igbo market leaders who visited him in Lagos.
Jonathan said that the Federal Government had already approved an inland port in Aba, Abia state.
He said that the Aba Inland Port was intended to decongest Lagos ports and expand business activities to other parts of the country.
The president thanked the traders for standing by him in his re-election bid and acknowledged that he could not compensate the Igbo enough for their support for his administration.
"In my political career, since I became the vice president and later president, my strongest support base has been the South East," he said.
He told the visitors that the fortune of the Peoples Democratic Party in the 2015 general elections remained very bright and urged them to support the party until victory was achieved.
A spokesman for the traders, Sir Nnamdi Nwigwe, said that the traders believed in the transformation agenda of the president and would do everything within their powers to ensure he was re-elected for a second term.
Nwigwe also said that the PDP would be returned in Lagos during the governorship polls.
He said that the Lagos state government had denied them the conducive climate to do their businesses through incessant closures of the markets and double taxation.
He urged the Federal Government to enlighten the traders on the various economic policies of government so that they could easily comply without falling foul of the law and on the operations of the Free Trade Zones.
Another speaker, Chief Alex Odunukwe, the Chairman of the Balogun Market Business Association, told the president that the group was supporting his candidacy because of the laudable achievements in his first term.
"We have seen the improvement of the road infrastructure in the country, improved fuel supply and the transformation in the agriculture and education sectors.
"You do not have need to be afraid of the election because what God has decreed for you in governance must happen," he added.
In a related development, the Igbo community in Lagos, comprising Aka Ikenga, the Igbo think tank, Ohaneze Ndigbo and the traditional rulers assured Jonathan of their willingness to repeat the feat they accomplished in 2011 by re-electing him in 2015.
The community urged the Federal Government to guard against the plan by some persons to allow illegal immigrants to vote in the 2015 polls and attempt to disenfranchise Nigerians through hoarding of Permanent Voter Cards.
Other Igbo leader such as the President of Aka Ikenga, Chief Goddy Uwazurike, the Ezeigbo Lagos, Eze S.N. Ohazurike and the President of Ohaneze Ndigbo Lagos, Mr Fabian Onwughalu, said what the community had with Jonathan was "a partnership".