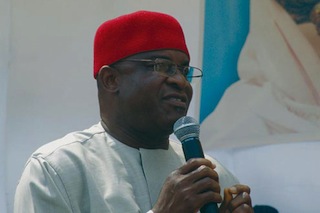 Senate President David Mark, says the postponement of the general election has provided millions of eligible voters an opportunity to collect their permanent voter cards.
Mark, who made the remark at the opening of the plenary of the Catholic Bishops' Conference of Nigeria in Abuja, said the postponement had turned out to be "a blessing in disguise".
According to him, if the elections had held on Feb. 14, many Nigerians would have been unable to vote.
"I want to be re-elected back but I do not want to go through the back door, I want to be re-elected with many Nigerians accepting that this is their choice.
"Whatever we can do to enable few more Nigerians to vote on their appointed days, I think it is proper that they do it," he said.
Mark also restated that there was no place for an interim government in the Nigerian Constitution, saying that it was "absolutely alien to the current constitution".
"We will not allow that," he said.
In his remarks, Pastor Ayo Oritsejafor, the President of the Christian Association (CAN), said that the theme of the conference challenged every Nigerian to nurture their family.
NAN reports that the theme is titled "Good Families Make Good Nations."
Oritsejafor appealed to government to continue to work hard to create employment opportunities for young Nigerians.
He also appealed to church leaders to ensure that their followers imbibe sound moral values needed to raise responsible families.
"We must along with other stakeholders continue to assist in creating an enabling environment for families to grow and mature, respect constituted authority, be honest and love one another.
"I am pleading for cooperation, unity and brotherhood; efforts must be made to denounce worldliness, to build families that imbibe godly and enduring values," he said.
Oristejafor advised that in spite of diverse doctrines and other means of expressing faith, Nigerians should remain united.
Also, the Primate of the Church of Nigeria, Anglican Communion, Most Rev. Nicholas Okoh, appealed to the Anglican Roman Catholic Commission (ARCC), to give a definite agenda to the commission.
Most Rev. Ignatius Kaigama, Archbishop of Jos, and President, CBCN, said that the Church had used different associations to enlighten its members to shun acts of violence.
Kaigama said that the Church had gone beyond political or religious difference in promoting the common good of the nation.

Load more