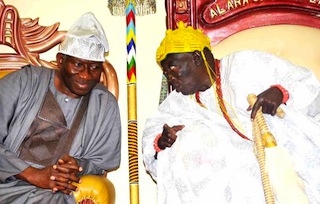 President Goodluck Jonathan on Saturday vowed that the Federal Government would regain parts of the country seized by the Boko Haram terror group.
Jonathan gave the assurance when he paid a courtesy visit to traditional rulers in Epe, near Lagos.
"I have made all the tools and machineries available to fight against Boko Haram.
"I want to ensure that Boko Haram will not disturb or cause any violence during the forthcoming elections."
He said that he would ensure that the election would be free and fair.
Jonathan promised to support Epe people by providing them with a power plant that would boost their power supply.
"I am aware that power supply has been the major challenge in Epe community. I will assist in boosting your power supply."
He also pledged that the Federal Government would complete the ongoing seaport and free trade zone project in Epe.
Earlier, Oba Akeem Adesanya, the Alara of Ilara, a community in Epe, offered prayers for Jonathan.
Adesanya, who is also Chairman of Traditional Rulers in the Epe Division, described the achievements of Jonathan as laudable.
He pleaded with the president to keep his promise to Epe people when re-elected.
The PDP Governorship candidate in Lagos State, Mr Jimi Agbaje, said that the presidential visit would assist in the development of Epe Division and Lagos State in general.
He said that Jonathan was a grassroots man who recognised and respected traditional rulers.
"Traditional rulers are the grassroots people that know more about their community.
"It is, therefore, important to work in collaboration with them to develop the rural and urban areas."
Agbaje promised to move Lagos State forward if elected.
NAN reports that notable personalities, including the PDP National Chairman, Mr Adamu Muazu, former Anambra Governor Mr Peter Obi, former Ogun State Governor, Mr Gbenga Daniel and Musiliu Obanikoro attended the event.