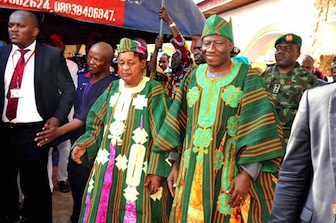 President Goodluck Jonathan on Saturday restated his commitment to consolidate on his achievements and take the nation to greater heights, if re-elected.
Jonathan stated this when he visited both the Alaafin of Oyo, Oba Lamidi Adeyemi in Oyo and Oba Oladunni Oyewunmi, Soun of Ogbomosoland in their respective palaces.
While commending the traditional rulers for their supports, Jonathan noted that it was their usual practice to cooperate with government towards moving the nation forward.
The president, who took time at the various palaces to highlight his administration's achievements in the various sectors like health, education and infrastructure, assured the monarchs that he would complete all ongoing projects.
"We have done well in many sectors such as Agriculture. We tackled Ebola, eradicated guinea-worm and polio.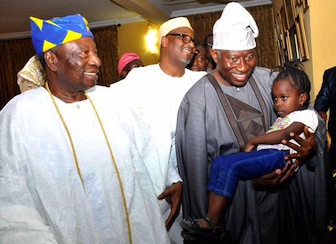 "In the area of education, we established 14 new universities.
"Only about 5,000 kilometres out of the 35, 000 kilometres of roads in the country were passable when we were elected.
"We have completed 20,000 kilometres and we will complete the remaining 10,000 kilometres, if we are re-elected," he said.
Jonathan, who said he had just inaugurated the Olorunsogo and Igbehin Power Plants, said that the much desired power supply would be achieved soon.
He urged the monarchs to remain fathers to all political office seekers, while not jettisoning good governance.
Earlier in his address, Oyewunmi urged the president to help the community complete all ongoing Federal Government's projects in the area, like the Oyo-Ogbomoso-Ilorin expressway.
He congratulated the president for rebasing the nation's economy as the largest in Africa in terms of Gross Domestic Product (GDP).
The monarch urged politicians to shun violence and imbibe the culture of political tolerance.
NAN reports that Alhaji Adamu Muazu, Peoples Democratic Party (PDP) National Chairman, Oloye Jumoke Akinjide, Musiliu Obanikoro, former governors Peter Obi and Gbenga Daniel were among those in the president's entourage.