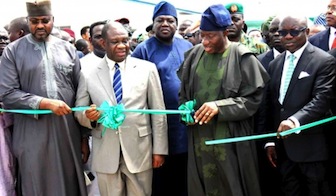 PDP Youth Leader in Kwara, Segun Olawoyin, on Saturday in Ilorin said the achievements of President Goodluck Jonathan would secure victory for him in the March 28 presidential election.
Olawoyin said this while featuring on a Radio Nigeria Harmony FM personality interview programme.
According to him, Jonathan has performed creditably well to deserve the overwhelming votes of Nigerians for a second term in office.
Olawoyin, who cited the president's achievements in the area of education, power, job creation, road and transport, also said the transformation agenda was being implemented faithfully.
He said that the president established 13 universities across the country within four years while former President Olusegun Obasanjo was only able to set up a private university for himself in eight years.
Olawoyin appealed to the people of the state to vote massively for Jonathan on March 28 and Sen. Simeon Ajibola on April 11.
The youth leader, who said PDP was ready to liberate the people of the state, commended the peaceful manner in which youths in the party carried out their campaigns.
Olawoyin said a PDP government would lay greater emphasis on youth development through provision of jobs, skills acquisition and entrepreneurship training.
He appealed to the people of the state to collect and keep their Permanent Voter Cards (PVCs), saying it was their only weapon to vote for positive change in Kwara.

Load more