Henry Ojelu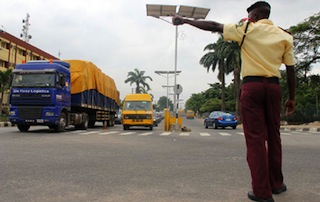 Justice Lateef Lawal-Akapo of the Ikeja High Court today discharged and acquitted an official of Lagos State Transport Management authority (LASTMA), Ganiyu Raimi who was accused of killing a commercial motorcycle riders Clement Okoro.
Raimi who has been in prison since 2010, was standing trial on a one count murder charge was accused of murdering Okoro at Oke Afa Isolo.
According to the charge sheet, Raimi who was a LASTMA official at the time of the incident was trying to control traffic at Jakande junction when the deceased who was carrying a passenger on his motorbike tried to beat the traffic by manoeuvring and was subsequently stopped by Raimi.
An argument reportedly occurred between Raimi and the deceased which led to a hot exchange of words after which Okoro sped off.
It was reported that some few kilometers away from the scene of the incident the deceased started to feel unwell and was rushed to the hospital where he reportedly died.
During the course of the trial, the prosecution called four witnesses, two of which were Raimi's colleagues who testified that throughout the time which the argument lasted, the deceased never alighted from his bike and Raimi did not touch him at any point.
However, the third witness, Humphrey Odem who was Okoro's passenger testified that Raimi hit the deceased with his hands and belt.
During the trial, the accused lawyer, Mrs Oyefeso had argued that no evidence implicated the accused, and that the medical report did not implicate the accused or connect him to the death.
Delivering judgement, Justice Akapo pointed out that the evidence of the third witness did not link the accused to the deceased.
"The case is such that it does not require any explanation from the accused. I thereby hold that the case put together by the prosecution has failed to achieve its purpose.
"The case has been a total waste of the time of the judiciary and the accused is hereby discharged and acquitted.