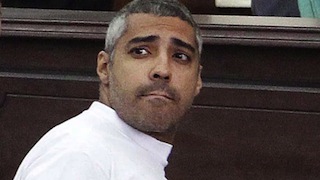 An Egyptian court postponed Monday the trial of two Al-Jazeera journalists to March 8, with Canadian reporter Mohamed Fahmy saying he hoped for a fair hearing in a case that sparked global criticism.
They stand accused of supporting the blacklisted Muslim Brotherhood movement in their coverage, a charge they have denied as absurd.
A court freed Fahmy, Egyptian producer Baher Mohamed and other defendants on bail earlier this month after they spent more than 400 days in prison.
One of the defendants, Australian Peter Greste, was deported under a recent law that allows the transfer of foreigners on trial to their home countries.
His name was still on the roster of defendants in Monday's hearing.
Standing outside the court before the session began, Fahmy told reporters he too hoped for deportation, having already given up his Egyptian citizenship.
"We are still fighting for it. I hope the Canadian government can realise that there is still a chance to extract me out of this pickle," he said.
Fahmy, Greste and the other defendants had initially been sentenced to up to 10 years in prison.
An appeals court ordered a retrial in January, saying the verdicts had not been supported by evidence.
"We hope that justice prevails and that we somehow (get a) fair trial," Fahmy said.
After a brief session on Monday, the court adjourned the trial to March 8.
The journalists were arrested in December 2013 during a crackdown on supporters of ousted Islamist president Mohamed Morsi.
Their initial trial came against the backdrop of strained ties between Egypt and Qatar, where Al-Jazeera is based and which supported Morsi.

Load more