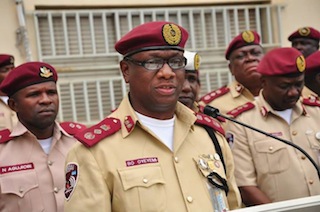 Boboye Oyeyemi, the Corps Marshal, Federal Road Safety Commission (FRSC) has called on all stakeholders in the sector to embrace jogging for healthy living and reduce spending on ailment.
Oyeyemi said this on Saturday in Abuja during the Special 27th Anniversary Walking/Jogging Exercise organise by the commission at the National Stadium, Abuja.
He said that people could significantly lengthen their lives with as little as one hour of jogging a week, adding that the results would increase their life span.
"Exercise should be embraced by all Nigerians to have good health and sound minds for effective performance.
"This is part of the efforts of FRSC to ensure that officials and stakeholders are physically fit to carry out their tasks and live a healthy life.
"Nigerians should embrace jogging exercise in order to be healthy and reduce spending on ailment.
"Monthly jogging exercise has become a tradition for us since we started eight years ago as it comes up 11 times in a year.
"We usually invite different Ministries, Departments and Agencies (MDAs), as well as private organisations during the exercise and they always attest to its benefits."
Chief Osita Chidoka, the Minister of Aviation, who was the special guest of honour, also said that jogging helped in improving individual health and professional performance of participants.
He urged the Corps Marshal to continue to sustain the exercise while encouraging all participants to embrace the jogging as frequently as possible.
Represented by Mr Jibrin Manigi, the Director of Audit in the ministry, Chidoka said the monthly exercise should be sustained by the FRSC.
Mr Sola Omole, the Director-General, Nigerian Television Authority (NTA) says "a healthy mind resides in a healthy body'', adding that the initiative was excellent.
Alhaji Musa Isewele, the National President Road Transport Employers' Association of Nigeria (RTEAN), one of the major stakeholders in the road traffic sector, also commended the initiative.
He said, "RTEAN appreciate the corps marshal for organising this exercise because it prepares the participants to be fit for their daily activities.
"I enjoyed it and I appreciate all participants for making it interesting."
Mr Bisi Kazeem, the Head of Sports, FRSC, urged the general public to make jogging a habit in order to be of sound mind while moving on the roads.