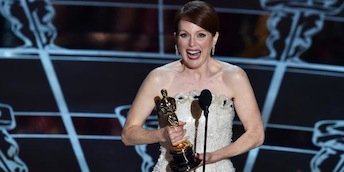 Julianne Moore, who won the best actress Oscar on Sunday, was a late-bloomer who turned 30 before she hit the big screen — but has more than made up for it ever since.
The 54-year-old redhead, who stars as a linguistics professor with early-onset Alzheimer's in "Still Alice," has played everything from a porn star to an FBI agent over a career spanning a quarter-century.
The win came on her fifth Oscar nomination, and is the crown jewel in a career already rewarded with three Golden Globes — including one for "Still Alice" last month — a Primetime Emmy and a BAFTA, also for her latest film.
"I read an article that said that winning an Oscar could lead to living five years longer. If that's true, I'd really like to thank the Academy, because my husband is younger than me," Moore quipped as she accepted her award.
She also said she was "thrilled" to be able to shine a light on those suffering from Alzheimer's, noting that "so many people with this disease feel isolated and marginalized."
Here is the complete list of winners at the 87th Academy Awards on Sunday:
Best picture: "Birdman"
Best director: Alejandro Gonzalez Inarritu, "Birdman"
Best actor: Eddie Redmayne, "The Theory of Everything"
Best actress: Julianne Moore, "Still Alice"
Best supporting actor: J.K. Simmons, "Whiplash"
Best supporting actress: Patricia Arquette, "Boyhood"
Best original screenplay: "Birdman"
Best adapted screenplay: "The Imitation Game"
Best foreign language film: "Ida" (Poland)
Best animated film: "Big Hero 6"
Best documentary feature: "Citizenfour"
Best cinematography: Emmanuel Lubezki, "Birdman"
Best original song: "Glory" (from "Selma")
Best original soundtrack: Alexandre Desplat, "The Grand Budapest Hotel"
Best costume design: "The Grand Budapest Hotel"
Best make-up / hairstyling: "The Grand Budapest Hotel"
Best production design: "The Grand Budapest Hotel"
Best documentary short subject: "Crisis Hotline: Veterans Press 1"
Best live action short film: "The Phone Call"
Best animated short film: "Feast"
Best film editing: "Whiplash"
Best sound mixing: "Whiplash"
Best sound editing: "American Sniper"
Best visual effects: "Interstellar"
Films with multiple wins:
"Birdman" – 4
"The Grand Budapest Hotel" – 4
"Whiplash" – 3