Yusuf Muhammed
Men of the Nigeria Customs Service attached to Federal Operation Unit, FOU, on Monday clashed with rice smugglers at Sango Ota, Ogun State, southwest Nigeria.
Two persons reportedly died during the incident while two others who sustained injuries are currently receiving treatment at an undisclosed hospital in the area.
According to an eye witness who identified himself as Obi Peter, the Customs men chased the smugglers to Sango motor park and seized one lorry load of second hand clothes and 10 cars loaded with rice.
He said after the seizure, the smugglers blocked the road to prevent the customs from taking away the seized goods and vehicles.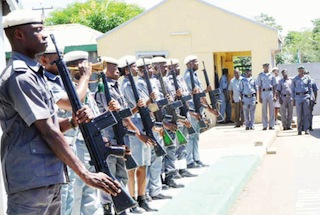 Peter further stated that in an attempt to force the smugglers out of the road, the Customs started shooting and in the process a 27-year-old Kogi indigene identified as Angela Abba who was preparing food in front of her shop was hit by a stray bullet on her head and she died on the way to hospital.
Three other persons who sustained injuries were rushed to the hospital and one of them died at the hospital.
Another eye witness who craved for anonymity, blame the customs for the fracas, adding that there are so many Customs check points in all the routes the smugglers pass before getting to Sango motor park and wondered why they were not arrested on the way before getting to Sango where innocent lives were cut shot.
When P.M.NEWS visited Sango Police Station and the Area Command, both the Divisional Police Officer in charge of the Division, Chief Superientendent of Police Adisa and the Area Commander Assistant Commissioner of Police, ACP, Mr. Titilayo Kayode were said to have gone to Ogun State Command Headquarters at Eleweran.
A but a source at the station also blamed the Customs for their action, adding that since lives were lost, the  Customs should have reported the incident to the police but they never did.

Load more