Cyriacus Izuekwe
Five unidentified victims died on Monday as a Lexus SUV conveying the victims and the driver plunged into a river along Benin-Asaba expressway in Edo State, southern Nigeria.
The black SUV reportedly summersaulted several times before it plunged into the river with the occupants.
The victims died before a rescue team arrived the scene of the accident.
The incident happened at Ogwai river a few kilometres to Benin City, capital of Edo State.
The cause of the accident could not be ascertained but it was observed that the SUV did not hit any person or object before plunging into the river, thus giving rise to suspicion that the driver might be overspeeding.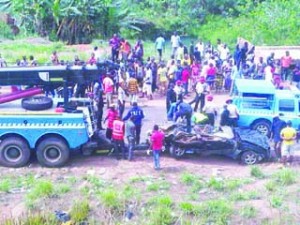 According to Federal Road Safety Corps officials who arrived the scene with their towing vehicles for a recue operation, the victims were travelling from Lagos to eastern part of Nigeria, adding that the driver must have lost control of the vehicle, resulting in the accident.
The officials pulled the dead bodies out of the river after local divers helped in tearing apart the mangled SUV.
The officials recovered some documents and a large amount of cash belonging to the victims.
Their bodies were taken away in a truck to the mortuary.
The identity of the victims could not be immediately ascertained.
The accident caused a heavy traffic jam on the busy highway as the rescue team blocked  the expressway as they tried to retrieve the vehicle and victims from the river.

Load more