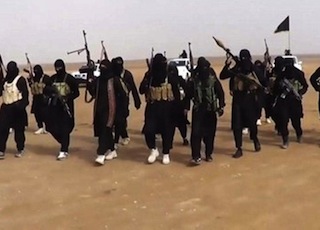 A South Korean teenager who went missing last month has joined the Islamic State (IS) group and is receiving training, South Korea's spy agency said Tuesday.
The 18-year-old middle school dropout, identified only by his surname Kim, went missing in Turkey on January 10. There had been speculation that he crossed into Syria to join the radical Islamist group.
The National Intelligence Service (NIS) said in a report to a parliamentary committee that Kim was receiving training at an undisclosed IS camp, Yonhap news agency reported.
The NIS report was disclosed by lawmakers who attended the closed committee session.
The teenager was last seen leaving his hotel in the southern Turkish city of Kilis — not far from the border.
South Korea's foreign ministry said earlier that CCTV footage obtained by Turkish police showed Kim taking an unlicensed taxi, together with an unidentified man, outside a mosque near his hotel.
They got out near a refugee camp at Besiriye, about 18 kilometres (11 miles) southeast of Kilis, the ministry said.
South Korean police said Kim had posted a series of messages on his Twitter account in October last year, asking for help in approaching IS.
Kim's parents allowed him to travel to Turkey along with a family friend, after he pleaded for the chance to meet a friend there whom he had contacted online.
More than 3,000 Europeans have gone to fight with jihadist groups in Iraq or Syria, according to European Union statistics. But Kim is the first Korean known to have done so.

Load more