Jethro Ibileke/Benin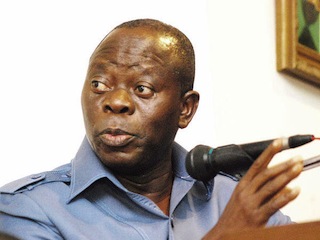 Governor Adams Oshiomhole has appealed to voters not to be deceived by the Peoples Democratic Party (PDP) who will share cubes of sugar, tubers of yam and grains for their votes, saying Nigeria's politics has gone beyond that level.
The governor who spoke on Sunday at the commissioning of a 35-bed community health centre built by a member of the Edo State House of Assembly, Hon. Dele Oloruntoba as part of his constituency project, alleged that money appropriated for constituency project in the past were put into private pockets by leaders of the PDP.
"Let me remind our people that there are two parties in Nigeria, the party that believes that government should work for the people and the one that believes that government money must be shared among some people and put into individual pockets.
"In a democracy, everybody must be identified by his father's name. If you work it will be seen, if you don't work it will be seen and we must put your name against your performance," Oshiomhole said.
The governor said the first consideration was that public funds must be applied in a way that would deliver happiness to the majority of our people. "I want to appeal to our people that this forthcoming election is not for us to vote for cubes of sugar, tubers of yam or bag of rice. Our politics has gone beyond that level. If you vote because of these materiel things, the consequences are such that development will be far.
"For ten years, all the money was stolen and it was put in private pockets and they bring a small percentage to share when election is approaching. I am proud of my party and I ask you to support APC and its candidates from the presidency to the House of Assembly elections.
"Our people know now that PDP is a party of cheats and anytime you see red roofs you know it is APC. May I also inform you that this election is not about tribalism? One of the causes of Nigeria's problems is this issue of tribalism. The issue is that a party that will not work will not work."
The 35-bed Health Centre "Clara Oshiomhole Comprehensive Health Centre" is named after the late wife of the governor.