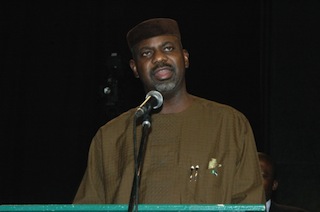 Governor Liyel Imoke on Wednesday in Ikom, Cross River, enjoined Nigerians not to vote for the opposition party because it would be tantamount to going back 30 years.
Imoke who made the call at the PDP rally in Ikom, Cross River Central Senatorial District, after the inauguration of 6,000-capacity Ikom Township Stadium, urged Nigerians to vote President Goodluck Jonathan for a second term in office.
"There are only two options for Nigerians to choose from: vote Jonathan and move forward with its transformation initiatives or follow the opponent and be dragged 30 years backward."
Imoke said Jonathan had in his first term established and initiated developmental programmes as well as empowered women.
"No president has done what Jonathan has done; so, in the history of Nigeria women, for the first time, have been given opportunity to participate in politics and be voted into offices.
"We the youths and women in Cross River will support Jonathan and all PDP candidates," he said.

Load more