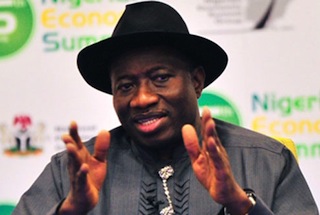 President GoodLuck Jonathan has urged prospective Easter Christian pilgrims to pray for peace in the country and total defeat of Boko Haram militants.
The President, represented by the Anambra Governor, Mr Willy Obiano, gave the advice at the launch of the 2015 Easter Pilgrimage to Israel, Greece and Rome on Sunday in Enugu.
He said "as you go to the Holy Land, try and pray for peace in Nigeria and total defeat of the Boko Haram and victory for our military personnel."
He urged the intending pilgrims to work as a team, irrespective of their denominations so as to lift the spirit of the entire Nigeria.
Jonathan also advised them to obey the rules guiding them while in the Holy Land so as not to bring shame to Nigeria.
The Deputy Senate President, Mr Ike Ekwerenmadu, also urged the intending pilgrims to pray for the nation, saying that the problem caused by the Boko Haram had brought hardship to every tribe and not just the people of the North East.
Mr John Kennedy, the Executive National Secretary, National Christian Pilgrims Commission (NCPC), pleaded with the intending pilgrims to be good ambassadors of Nigeria while in the Holy Land.
He said the Christian Pilgrims Commission was already collaborating with the National Lottery Commission for Christian Pilgrimage Lottery Scheme, saying it would afford every Christian the opportunity of obtaining a ticket that could take them to Israal or Rome.
Kennedy said that the Commission had introduced some basic programmes to strengthen the Christian pilgrimage activities.
"We are introducing basic leadership and skill acquisition programmes; we also introduced the youth pilgrimage and Christian Pilgrimage Lottery Scheme.
"This innovation will be our trust in reaching more Christians who otherwise have remained untouched."
He appreciated Obiano for the large number of pilgrims he had sponsored, adding that it was a thing of joy that Anambra was the first to start the Easter Pilgrimage.
Earlier,the Chairman of NCPC, Archbishop Nicholas Okoh, advised them not to take laws into their hands, rather, they should work as a team.
He asked them to remain focused so as not to distract each other, saying their visit to the Holy Land was not for shopping, rather, it was for spiritual exercise.
The Anambra Christian Pilgrim Board Chairman, Dr Levi Muonanu, called on the Federal Government to increase sponsorship of more Christians in the state.
Some participants said they were delighted to be among those given the opportunity to embark on the 2015 pilgrimage.
Mrs Nkiru Kwuazu said she was full of expectations, saying her purpose of embarking on the Holy exercise was to pray for peace in the country and for her family.
Rev. Emmanuel Okolo from Awka Dioces said his going there was for spiritual growth and peace in Nigeria.
The theme of the pilgrimage is "A Tool for Moral Transformation and Spiritual Rebirth: Moving to Stability.''

Load more