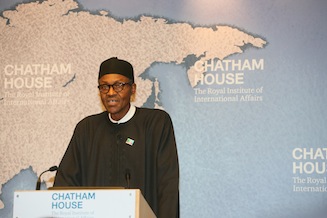 The Director PDP Presidential Campaign Organisation, Femi Fani-Kayode has lashed at the main opposition party, All Progressives Congress (APC) for describing its presidential candidate's visit to Chatham House, London as a success.
In a news conference in Abuja on Sunday, Fani-Kayode described Muhammadu Buhari's appearance as a 'monumental failure' noting that Buhari could not match PDP's Goodluck Jonathan.
"It is quite interesting to note that the APC is describing the appearance of its presidential candidate, at the Chatham House in London, as successful.
"This is not so and in fact the contrary is the case. The truth is that the outing was a monumental failure.
"The whole sorry episode, has now fully exposed the APC as a party built on propaganda, deceit, make-believe and one which lacks respect for the people of Nigeria," he said.
According to him, Buhari's appearance at Chatham House, was a last-minute plan to divert attention of Nigerians and the whole world from the fact that he went to London, to seek medical attention.
He maintained that the Chatham House speaking engagement was hurriedly put in place and organised only two days before it took place and well after Buhari had arrived in London.
"The questions that were asked were given to him two days before the event and the answers were prepared for him and given to him to rehearse.
"The programme lasted for only 55 minutes and only five questions, which were all planted, were asked. The people in the Hall were sponsored," Fani-Kayode said.

Load more