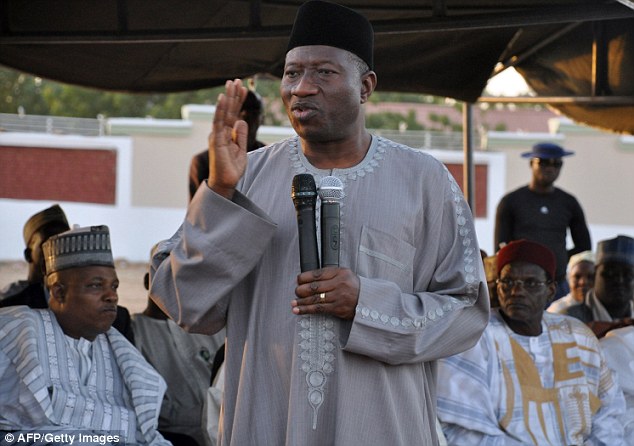 President Goodluck Jonathan on Monday stated that the ruling Peoples Democratic Party (PDP) is the only party that can provide peace and leadership to Nigerians.
He made the remark at the launch of the PDP Ward Volunteer Scheme as well as workshop and strategic meeting of the party in Abuja.
He said the party is the largest in the country with presence in all the wards across the country and had done very well.
Jonathan said that in spite of the agreement reached by state governments to establish local airports to boost commerce and integration only PDP states built domestic airport.
He added that PDP states had built more state universities than the others, adding that the party would always defeat the opposition in the presentation of scorecards.
"PDP is the only party that can bring peace in the country," adding that those who had nursed grievances were the people coming to seek election.
"You cannot bring peace if you do not have an open heart. You cannot give what you do not have.
"We have shown clear leadership. Before we came in telephone was the preserve of a few, but now some people even have bags of telephones."
Jonathan urged PDP members to be proud of the party and charged the volunteers and other elected officials to project the interests of the party and defend them.
He said that the leadership of the party would communicate major decisions of the party to the grassroots for effectiveness.
"We all have to work hard because if we work hard, we will win most of the elections in 2015," he said, and urged contestants for state assembly election to market the party using their grassroots links.
He said the opposition was launching several attacks against the president because they believe that once the office of the president was ridiculed, they would silence the rest.
The President thanked Dr Ifeanyi Ubah for initiating the Transformation Ambassadors of Nigeria (TAN), and the good work the organisation had done for the party.
He urged the group to continue with the good work.
Earlier, Ubah, who organised the programme, said the workshop was meant to assemble all the aspirants and party officials to re-strategise towards winning the 2015 polls.

Load more