Funsho Arogundade
Star actress, Mercy Johnson has responded to those criticising her of faking a populist lifestyle by hitching a train ride in Lagos.
According to the actress, she was forced to take the train after her Range Rover SUV developed mechanical fault and had a very important appointment to keep in Ikeja area of Lagos.
Mercy's picture alongside her daughter, Purity, aboard an air-conditioned train surfaced online early this week. The picture later generated a buzz on the social media.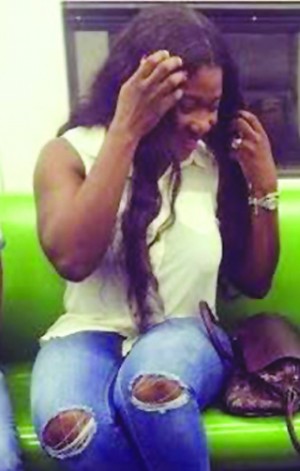 But as she received praises and knocks from fans and adversaries alike, the actress, through her PR Camp cleared the air on why she had to board the train.
"I was around Iddo at Ebute Metta when my Range Rover (SUV) developed a mechanical fault and I had to make a very important appointment in Ikeja regardless of the usual traffic congestion in Lagos. Luckily, a member of my management team was around, he suggested a train ride and we were in Ikeja in less than 30 minutes but that is not the crux of this statement," she said.
Explaining further, Mercy stated: "Like I mentioned earlier, I have had to answer questions in private and public as to why I would board a train because trains in Nigeria are considered a means of transportation for the masses and not-so-rich people. A friend called and said I just devalued my brand by being on the train with ordinary people. I couldn't help but laugh. Are we extra-ordinary people because we are celebrities? In as much as I understand the concept of branding, packaging and exclusiveness, I will never trade the experience to sit, interact and feel the pulse of so-called ordinary people.
"By the way, I am part of the ordinary people. I grew up as an ordinary person among ordinary people. Why would I avoid them now? Would that be because I am now famous? Without these ordinary people, how would I have been famous in the first place?  Without the so-called ordinary people, where would Nigeria's growing population of so-called well packaged celebrities be today?"
The mother of two further stated that for the purpose of clarification, she was not on the train due to lack of money to get a cab or get somebody to bring another car from her garage at home.
In spite of her controversial status before she married, Mercy remains one of the most loved actress in Nollywood.

Load more