The picture of a lone President Goodluck Jonathan sitting down and some traditional rulers pointing their walking sticks at him has stirred controversy among traditionalists in Yorubaland with some of them describing the Obas' gesture as a curse while others described it as a blessing.
President Jonathan on Saturday visited Ile-Ife, Osun State, western Nigeria, to solicit the support of Obas for his re-election bid.
After pleading with the Yoruba monarchs on why they should support his second term aspiration, the obas present pointed their walking sticks at the president and prayed for him.
Some traditionalists, however, described the Obas' gesture as a curse and not a blessing to the president's ambition.
According to them, the pointing of walking sticks at an individual connotes a bad omen and a curse to the individual concerned.
They argued that contrary to the assertion by presidency officials that the Osun monarchs gave their approval to the president's request by pointing their walking sticks at him, the monarchs were actually cursing him, praying that he should not return to office.
Chief Idowu Awopetu, Awise of Ijeshaland, a traditional High Chief, said a genuine Yoruba Oba has three potent tools which he could use to bless or curse anybody. They are a horse whisk (Irukere), crown and royal stool.
"If an Oba wants to curse you, he could point the handle of his horse whisk at you. He could also bless you with the same Irukere. An Oba could remove his crown and curse you with it or bless you with it. He could do the same with his traditional stool (royal seat). The stool is crucial because it is believed that the stool is so sacred and fortified with the spirits of his ancestors that when an Oba sits on it, he is imbued with the power of his ancestors to bless or curse to a telling effect," he stated.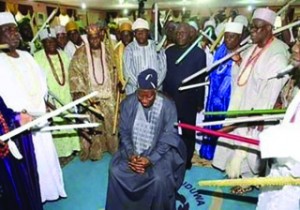 Chief Awopetu dismissed what happened in Ile-Ife as completely alien to the Yoruba culture. "An Oba doesn't  pray with a walking stick, he only walks regally with it. No genuine Oba prays the way those Obas prayed in Ile-Ife. It is a modern invention that has no meaning in Yoruba culture," he added.
An Ijebu Oba, who preferred not to be quoted, said that there was nothing wrong with Obas surrounding a man they are praying for.
"When an Oba was crowned in Ijebuland some years ago, that was how other Obas surrounded him and prayed for him," he said.
In his own comment, the National Coordinator of the Oodua Peoples Congress, OPC, Otunba Gani Adams, pointed out that the gesture of the Osun monarchs signified approval of the president's request and backing for his second term ambition.
"The walking stick is a symbol of authority of the monarchs and by pointing it at the president, they are blessing him and praying for his success in the election. It is not a curse. The monarchs are using their symbol of authority to pray for the president's success in the election. That is just it," he stated.
Baale of Omole, Alhaji Nosiru Bakare explained that the walking stick could serve dual purposes; it could be used to bless or curse.
"The walking stick is a symbol of authority of the monarch. It can be used to curse or bless. It is a stick of authority. By pointing it at you they are praying and blessing you because it has power," he said.
In his own comment, Prince Olusegun Ologbese of Ogbese town in Ondo State and a maritime expert based in Lagos said President Jonathan should not see the monarchs' gesture as an endorsement of his second term in office.
"They are deceiving him by pointing their walking sticks at him. It is a fake gesture. Many people in Yorubaland know that Jonathan has failed as a president and they are clamouring for a change. They want a change and they are determined to effect that change, come 28 March by voting for the Buhari/Osinbajo ticket," he stated.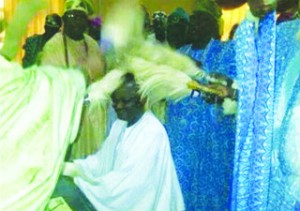 In his own comment Osa Ogie described the Obas' gesture as fake.
"All these packaging by Yoruba Obas are all fake. They are making dollars. They have no power to deliver their wards to any candidate. We know them very well. They have no power to deliver the southwest to Jonathan."
Another commentator on the internet described President Jonathan as someone ready to receive anything just to win a second term.
"The man cannot win with the backing of the monarchs because the monarchs have their personal votes only," he said.