Eromosele Ebhomele
A boy whose parents were apparently killed by the Boko Haram terrorist bombing in Maiduguri has survived the bombing.
The toddler, whose name is yet to be known, is one of the victims of three separate blasts that ripped through crowded areas of Maiduguri, the Borno State capital on Saturday.
The photograph of the baby was revealed on Twitter, a social interaction site on the internet by a resident of Maiduguri, who assisted in the rescue efforts at one of the scenes of the three blasts.
Those who rescued the baby alive say it is either the parents were in one of the markets to sell or buy commodities, but did not return home in one piece.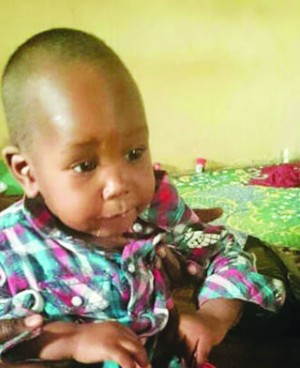 It was learnt that the first attack happened at the popular Baga Park.
A young lady was said to have alighted from a tricycle and detonated the improvised explosive device on her while the tricycle rider haggled with her over the transport fare she had refused to pay.
This first blast was said to have killed many men, few women and children.
The second blast occurred about one hour later at a different area of Maiduguri just like the third one.
As at Monday, the death toll was put at 62 while scores of other residents sustained various degrees of injuries.
Boko Haram has killed thousands of Nigerians mainly in the North-eastern part of the country since its members commenced ferocious attacks on communities, towns and villages in some states in 2009.
Some of the states attacked by the sect include Borno, Yobe, Adamawa, Kano and Abuja, Nigeria's Federal Capital.
Activities of the sect were the official reason given for the postponement of Nigeria's election by six weeks.
While the Nigerian troops, with assistance from Chad, Niger and Cameroon, have continued to recover seized territories from the sect, the Boko Haram leader, Abubakar Shekau, at the weekend, pledged allegiance to ISIS.

Load more