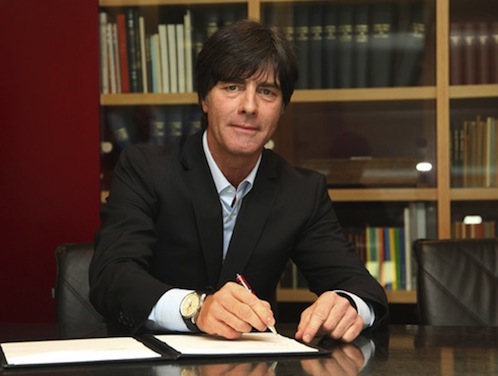 Joachim Loew has extended his contract as coach of world champions Germany until the 2018 World Cup in Russia, the German football federation announced on Friday.
The 55-year-old Loew's previous contract took him through to Euro 2016, but he said the chance to extend the deal was not one he was going to allow to get away.
"I said yes with my heart and my head," Loew said.
"We feel incredibly good working together and we have shared goals.
"We were crowned world champions and we want to experience that feeling again."
Federation president Wolfgang Niersbach added that it was evident how much the 'Mannschaft' had benefited from Loew's "expertise, determination and confidence".
"The shared goal is to stay at the summit of world football, we'll do everything to achieve that," Niersbach said.
Loew, who began as assistant to Jurgen Klinsmann in 2004 before taking over the top job after the World Cup in in Germany in 2006, led the Germans to World Cup glory in Brazil last year.
Loew's first tournament in charge was Euro 2008, where his charges made it to the final but lost 1-0 to Spain. At the 2010 World Cup in South Africa Spain again beat Germany 1-0, this time in the semi-finals.
Before the impressive triumph in Brazil, which included a 7-1 semi-final thrashing of the hosts, Germany fell in the last-four of Euro 2012 in a 2-1 defeat by Italy.