Some students in Enugu State who participated at the ongoing Unified Tertiary Matriculation Examination (UTME) have called for improved system to handle lapses in the examination.
Some of them, who spoke in Enugu on Thursday, regretted that they were given subjects contrary to their choice during the registration.
Miss Adaeze Iwu, who took the examination at the Godfrey Okoye University, Ugwuomu Nike, said she was forced to write a subject contrary to what she filled during the registration.
"I registered Christian Religious Studies (CRS) as one of the subjects for the examination but to my utmost surprise, when I logged in to start my exams, I saw economics in place of CRS.
"Though I guessed to answer the questions, I was not satisfied with the exams because I dropped economics at my senior secondary class 2.
"I am not sure that I will make a good grade in the exam,'' Iwu said.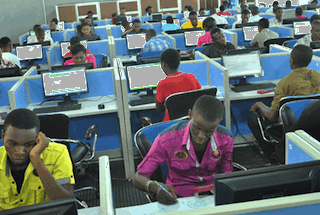 Another student, Samuel Mfon, who wrote at the University of Nigeria, Enugu Campus, appealed to JAMB to provide more computers in order to improve the Computer-Based Test (CBT) system in the interest of participants.
"I like the idea of releasing the results immediately but they should improve the system. We had three batches that wrote the examination today due to lack of computers,'' Mfon said.
Mfon also complained that he was given CRS to write in place of economics, and urged the board to address the problem immediately.
Chidiebere Ibe, who wrote at the Prince Computer School in Nsukka, complained that the examination started three hours ahead of time.
"I came from Enugu town since 9 a.m., to write my examination which was scheduled for 1.30 p.m., but to my surprise, we started around 3.30 p.m.
"I do not have any relation in Nsukka. JAMB should try as much as they can to keep to time.
"JAMB should make the CBT system to be optional. I do not think we have gotten to the stage of using only computers to write exams,'' Ibe said.
An official of JAMB, who preferred anonymity, expressed optimism that the system would improve over time.
The official, who expressed regrets over the development, said the system had reduced examination malpractices.
The official appealed to students to exercise patience with the system as the board was doing everything to make it faultless.
The examination which is ongoing would end on March 21.

Load more