By Simon Ateba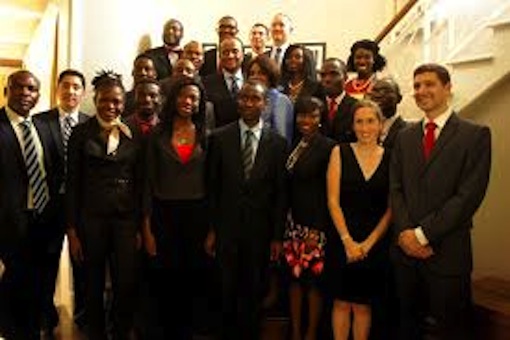 The 2014 Carrington Youth Fellowship Initiative (CYFI), an initiative of the United States Consulate in Lagos, came to a close on Friday with the 13 graduating students promising to continue to deepen democracy, human rights, health benefits, good governance and economic empowerment across Nigeria.
CYFI is named after former American Ambassador to Nigeria, Walter Carrington, who had deep love for Nigeria and was committed to the principles of democracy in the country when bilateral relationships between Nigeria and the United States were terribly strained.
Carrington, who was appointed by US President Bill Clinton in 1993 as the US Ambassador to Nigeria, remained in the country until 1997. His ties to Nigeria were deep, having married into a Nigerian family, and lived in three Nigerian cities since the late 1960s.
"Now, nearly three decades after, I am personally thrilled to see that the young people of Nigeria today have taken up the challenge to improve the lives of their fellow citizens," Charge D'affaires, Maria Brewer, told the graduating students at the residence of Jeffrey Hawkins, the US Consul-General in Lagos whose tenure is soon coming to an end.
The thirteen CYFI spent the last year working on community development projects that included a disability rights march, the launch of an application to link small businesses with funding opportunities, a text message platform to empower youth to take control of their own health, and a network to deeply engage youth in the election process.
"Your vision helps to build a better Nigeria," Brewer who is the acting US Ambassador, said, "You are the source of a dedicated, youth-driven innovation that ensures bright days ahead," she added.
The thirteen Nigerian youth were selected last year and given guidance from US officials and money to work on community development projects.
The 2014 CYFI fellows are Olatunji Ajani, Paul Ajayi, Linda Ijeoma, Oluwaseun Jegede, Eyewuene Murphy-Akpieyi, Abiodun Odunuga, Ebenezer Ogun, Eyitayo Ogunmola, kikiope Oluwarore, Ajoke Omoware, Olusola Owonikoko, Ebuka Ugochukwu and Ngozi Ukpai-Okoro.
Although the programme is coordinated by the US Consulate in Lagos, the sponsors are mainly Nigerians, said Hawkins, the Consul-General.
"This programme would not be possible without the support of our private sector partners and NGOs who have donated funds and expertise to the project teams," Hawkins said.
Hawkins said he was proud of the fellowship and said the fellows had accomplished a lot with the resources they were given.
"Our fellows have accomplished so much this year, and we cherish their partnership," Hawkins said, before adding that his three-year stay in Nigeria will soon come to an end.
The 2014 CYFI fellows were the third set of Nigerian youth to be part of the programme. Past achievements included a four-month vocational training programme in shoe making for youth in Ibadan in Oyo State, a radio drama series educating the population on civil liberties and human rights and a community action to eradicate malaria from neighbourhood clean-ups to free malaria screenings and distribution of insecticide treated nets.
Olatunji Ajani, who spoke on behalf of other fellows, expressed delight and said in a follow-up interview that he would use the expertise and network from the fellowship to move Nigeria forward.
The 2015 fellows resumed work about two weeks ago, officials said.