Simon Ateba/Ibadan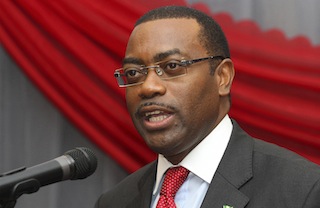 A total of 18 states and 322 poultry farms have been affected by the current Avian Influenza outbreak in Nigeria, the Minister of Agriculture and Rural Development, Dr. Akinwunmi Adesina, said on Monday.
The Minister said over 1.1 million birds have also been depopulated nationwide while 140 farmers have been paid a compensation worth over N600 million.
Adesina disclosed that at least 49 percent of infections occurred in 21 Local Government Areas of Kano State in northern Nigeria.
The Minister delivered an address at a workshop in Ibadan, Oyo State, for poultry industry officials. The workshop is sponsored by the United States Agency For International Development (USAID).
A total of 160 participants from the Federal Ministries of Agriculture and Health and the poultry sector are participating in the training that would end on Tuesday.
The focus of the workshop is on how to control avian influenza. Last week, a similar workshop also sponsored by USAID took place in Kano for northern based authorities in the sector.
Adesina said the government has continued to monitor the progress of the disease through the ongoing comprehensive disease surveillance.
"And our analysis indicates that the absolute number of positive cases from the laboratory is on the decrease," he said.
Despite the progress, the Minister said, the disease remains active in Oyo, Plateau, Bauchi and Kaduna States.
"We are strategising and focusing on the states where there are active cases in order to contain the spread of the disease," the Minister said in remarks read by a representative at the workshop.
Also speaking at the workshop, the United States Consul-General in Lagos, Jeffrey Hawkins, said bird flu is a serious threat to the economy and human health and warned Nigerians not to eat raw chickens or eggs at the moment until the disease is fully contained.
"I do not know if any of you eat raw chickens or eggs. If you do, please do not do it now," Hawkins said, adding that "with thorough cooking, those who eat chicken and eggs can be safe from the virus."
He said each participant trained represents a ripple effect of knowledge and power to stop the disease.
Bird flu is a viral disease that largely infects birds, but rarely humans. In 2007, there was one human case in Nigeria. The current outbreak has not affected any human.
Since 2006, the U.S. Government, through USAID, the U.S. Centers For Disease Control and Prevention, and the U.S. Department of Agriculture, has contributed approximately $1,750,000 in response to bird flu outbreak in Nigeria, USAID said.
In addition, USAID contributes $473 million a year to improve health and education, create jobs and improve public administration in Nigeria.
USAID also has a humanitarian programme, providing emergency response to Nigeria's northeast.