The twenty-one Chibok schoogirls who escaped when Boko Haram abducted hundreds of them on 14 April last year are back in class at the American University of Nigeria in the north-eastern Adamawa State.
Over 200 others have remained in captivity almost one year after they were taken hostage.
Among those who have returned to school, is a teenage girl who spoke to CNN correspondent Nima Elbagir in Chibok in the aftermath of the kidnapping.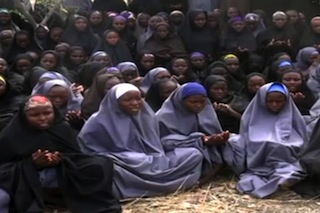 She told CNN at the time that she wasn't sure she would ever finish her education. Today she is dreaming of a better life, hoping to become a teacher herself so that she may help other young girls in her embattled community to learn.
"My people need my support … and me going to school will make that change," she told Elbagir.
The young students are enrolled on scholarships at the university, something which was organised by the school's vice-chancellor Dr. Margee Ensign, who – with the permission of their parents – travelled with her security director to the outskirts of Chibok to collect the girls, in spite of the danger.
The decision of these girls to continue in their schooling puts them and their families once again in the firing line – the name of the Islamist group Boko Haram literally translates as 'Western education is forbidden' – but they remain defiant, brave and determined.

Load more