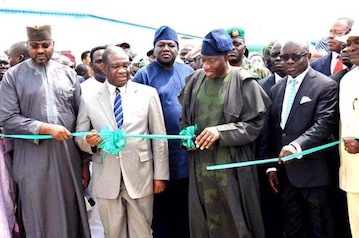 President Goodluck Jonathan on Wednesday laid foundation for construction of Teaching Hospital of the University of Agriculture in Akwete, Otukpo Local Government Area of Benue.
Jonathan, represented by Vice President Namadi Sambo, said the teaching hospital was in fulfillment of his promise to rebuild the nation's infrastructure and provide quality education to the people.
He said his administration had established 14 universities with 10 located in the North while 4 were cited in the South, explaining that the development had provided ample opportunities for youths to obtain qualitative education.
The president added that the establishment of the teaching hospital in Otukpo was aimed at boosting health delivery to the people of the area.
Senate President David Mark said he was overwhelmed by the gesture of the President to locate the university in his domain.
Mark commended Jonathan for continuing with the Transformation Agenda.
He advised Jonathan not to join issues with his political foes, whom he said, were bent on distracting him.
He said the teaching hospital would be one of the President's enduring legacies long after his exit from political office.
The Minister of Health, Dr Khaliru Alhassan, said the Otukpo teaching hospital was one of those established recently.
The Minister of Interior, Comrade Abba Moro, urged the Idoma people to reciprocate the good gesture by giving their bloc votes to the President and the PDP.
Governor Gabriel Suswam, appealed to the people to vote for the President, whom he said, was committed to transforming the economy through job creation to uplift the standard of living.

Load more