Okafor Ofiebor/Port Harcourt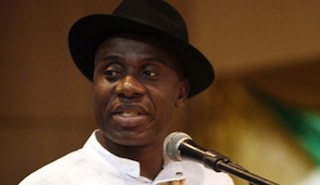 After the defection of Tele Ikuru, the deputy governor of Rivers state from All Progressive Congress (APC) to the Peoples Democratic Party (PDP) the 32 members of Rivers state Executive council have dispelled the rumour that there were plans by members to switch to the PDP.
At the second emergency council meeting held today at the Executive Chambers of Government House, Port Harcourt and presided over by Governor Chibuike Amaechi, the chairman of council witnessed the conspicuous absence of Tele Ikuru.
Speaking on behalf of the 32 members of council, Mrs. Ibim Semenitari, the Commissioner for Information and Communications said that as at the time of the council meeting today, the deputy governor had not formally notified Amaechi and the council that he has dumped the APC for PDP and neither has he sent apologies that he was not attending the council meetings any more.
She said the council and the Governor are aware of media reports that the Deputy Governor has defected to PDP but that the Rivers State Government wants to put it on record that the Deputy Governor has not officially notified the government that he would not be attending council meetings.
She also reiterated that no member of the state executive is defecting to PDP or any other party and that they remain loyal members of APC contrary to claims by Mr Felix Obuah, the State Chairman of PDP, that Governor Amaechi is left with only five Commissioners in his cabinet that would not be defecting.
She said that the members of Rivers executive who are mainly Commissioners and the leaders of APC in their areas are still driving APC campaigns.
"About 21 Commissioners in Governor Amaechi cabinet are already talking with me about coming home to join their own party. They are just waiting to pick their last salaries and dump Amaechi and the APC sinking ship," Obuah claimed.
Meanwhile, the executive council of the Rivers state government rose from their council meeting to call on the Rivers state command of the Nigeria Police to rise to the security challenges of securing lives and property before, during and after the general elections to stem the wanton killing of innocent persons no matter their political affiliations.

Load more