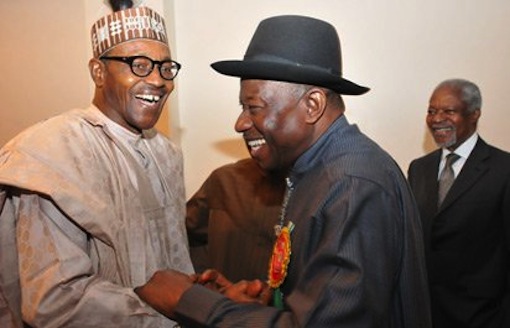 The two major presidential candidates in the Nigerian election for Saturday are meeting in a hotel in Abuja.
President Goodluck Jonathan of the Peoples Democratic Party, PDP, and General Muhammadu Buhari of the All Progressives Congress, APC, are currently meeting at the Sheraton Hotels and Towers in Abuja, the Nigerian capital, ahead of the elections.
The meeting, it was learnt, is for the two candidates to further pledge not to instigate their supporters or encourage violence during and after the election.
The meeting is further to extract a promise from the two leading candidates to ensure the election is free, fair and peaceful, according to sources who know about the meeting.
Video: Jonathan, Buhari meet in Abuja, sign Peace Treaty
The duo had previously met twice and on one occasion, they both signed a peace pact with other contestants for a peaceful election.
Days ago, Buhari had urged all his supporters as well as Nigerians to shun violence during the election. He also appealed to them to turn out en masse to vote for change, which is the slogan of his party.
Some international observers are currently in the country to witness the tightest election held since 1999 when Nigeria began another democratic journey.
President Barack Obama of the United States had also earlier warned Nigerian leaders and politicians against throwing the country into turmoil before, during and after the polls.
The International Criminal Court, ICC, has further warned that it would take up charges against any Nigerian leader who causes violence during the exercise.

Load more