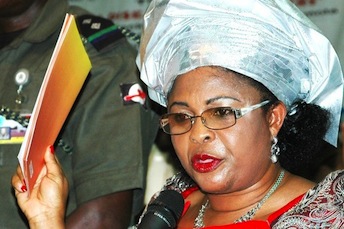 Governor Rotimi Amaechi has claimed that wife of the president, Patience Jonathan, is in control of the Rivers Police Force and structure, noting that, the Commissioner of Police, Dan Bature is "totally helpless".
Amaechi made the claim when he received the Special Representative of the United Nations Secretary-General for West Africa and High level Representative of the Secretary-General to Nigeria, Dr. Mohamed Ibu Chambas and other top United Nations diplomats and delegation on a courtesy visit to Rivers state.
"In Rivers state, the wife of the president (Patience Jonathan), who hails from Rivers state has taken over the Police Force. On Tuesday night, the Commissioner of Police attempted to arrest a member of the Rivers State House of Assembly and the reason for doing that is to ensure that APC members don't come out on election day.
"And as I speak to you now, the lawmaker has moved into the Government House for protection. Moreso, we have over 400 APC members in police detention. The other day, I asked the Police Commissioner and he told me that those arrested were criminals and why should I ask him to release them. Do we only have criminals in APC?," Amaechi quizzed.
"What about the period when the APC gubernatorial candidate Dr. Dakuku Peterside led members of the Party to a rally in Okrika. The APC campaign train was shot at, by hoodlums and PDP members. Now, ask the Commissioner of Police if he carried out any arrest? In that attack it was observed that the PDP killed a policeman and injured several APC members. The Commissioner of Police is totally helpless," Amaechi explained.
Amaechi stated further that: "It is important that you put this incidents on record. I don't know why the battle is here or maybe the battle is here in Rivers state because in the past PDP used to score two million votes. And now it appears it will no longer be business as usual."
Chambas said the delegation was in Nigeria to sensitize and advise political parties and candidates to ensure a level playing ground. "We are focusing on the elections because of the concern of the international community. The focus globally is on Nigeria, especially on the elections. The presidential candidates, President Jonathan and General Muhammadu Buhari have signed a peace accord ahead of the elections and they should allow INEC conduct free and fair elections," he said.

Load more