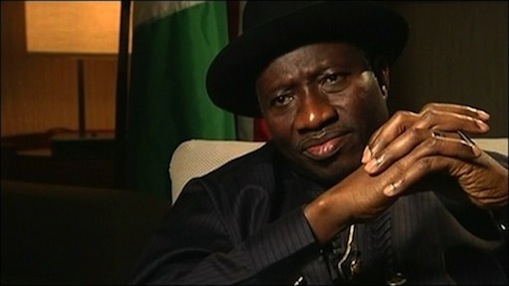 Some groups in Nigeria, including the Ijaw Coalition Group (ICG) and the Oodua Peoples Congress (OPC), on Wednesday reiterated their conviction that President Goodluck Jonathan would be re-elected on Saturday.
NAN reports that the groups made the declaration at a joint Mega Rally to seek more support for President Goodluck Jonathan at the Tafawa Balewa Square, Lagos.
NAN reports that the rally, which kicked off with a walk from the old toll gate area of Lagos, saw the groups dancing through the popular Ikorodu Road and Funsho Williams Avenue in Surulere, leaving a heavy traffic gridlock behind them.
The groups, which also included some Igbo, Northern and Efik groups, rendered songs in praise for the Jonathan administration in their native languages.
Speaking at the rally on "Why Nigerians Want Jonathan Back," OPC Founder, Dr Frederick Fasehun said that people wanted the President re-elected because he remained the best for the job.
"Aside from his peaceful nature, Jonathan, has achieved so much for Nigeria and should be allowed to consolidate on it.
"Like I always said, the Jonathan administration was under-sold. Nigerians were not aware that of all the leaders that have ruled this country, Jonathan is the best.
"Not many people know that in four years, the Jonathan administration has created 12 universities and built 120 Almajeri schools.
"Travelling from Lagos to Benin, which before the present administration could take days, is now without hassle.
"Nigeria's importation of rice, which was put at about N2.2 trillion per year, has been reduced drastically and Nigeria is almost self-sufficient in rice production," Fasehun said.
He said that the chances of the President emerging victorious were not limited to the South-West but the entire nation.
In his speech, the spokesman for the Ijaw groups, Mr Fiyebo Eperetei, said that they believed the President's performance would lead him to victory.
"The President has made remarkable achievements in systematically curbing corruption in Nigeria and blocking drainpipes in his reforms of the various sectors of the nation's economy.
"There is need for the administration to consolidate on these achievements hence the need for continuity.
"We are especially elated that Nigerians, at last, realise that the propaganda against the President were unfounded, malicious and sentimental for political gains.
"We have no doubt that the President will emerge victorious on Saturday," the ICG chieftain said.

Load more