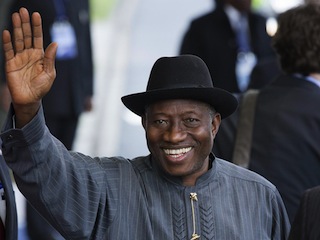 President Goodluck Jonathan and candidate for the Peoples Democratic Party (PDP) in the Saturday Presidential election has won majority votes in Bayelsa, his state.
However, the difference between registered and accredited voters in the state showed that 200,000 persons failed to participate in the electoral process.
The results declared by the state's Collation Officer and Vice-Chancellor, University of Port – Harcourt, Rivers State, Prof. Joseph Ajienka, showed that Jonathan won in the eight local government areas of the state.
A breakdown of the Presidential results so far released showed that in Kolokuma/Opokuma, PDP scored 20,633 while APC got 402.
In Nembe, PDP, 60,950, APC, 557; Ekeremor, PDP 61,012, APC 374; Yenagoa, PDP 45,439, APC 462.
Also, Jonathan polled 50,754 in Ogbia, his local government area while Buhari was said to have scored only 214 votes.
Statistics revealed that many registered voters in some local government areas did not participate in the elections.
For instance out of the 133,442 registered voters in Yenagoa Local Government Area, only 51,577 showed up for accreditation.
The situations were the same in Kolokuma-Opokuma, Nembe, Ekeremor and Ogbia where 13,785, 29,238, 14,451 and 13,389 persons respectively refused to participate in the exercise.
Results of three remaining local government areas were still being expected.
The results were announced after so much delay attributed to the terrains of the state by the Resident Electoral Commissioner (REC), Mr Baritor Kpagih.