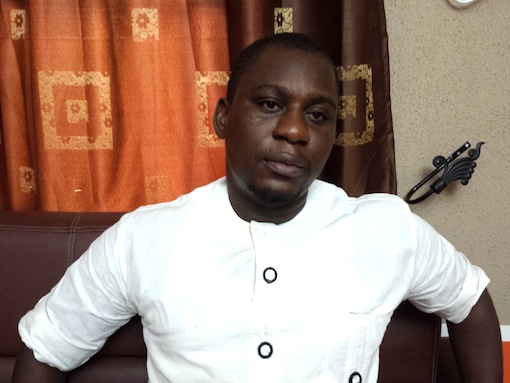 Owolabi Tijani is the son of Nigeria and Africa's foremost mouth painter, Idowu Akinrolabu. For over five years, he has been in charge of a Non-Governmental Organisation, NGO, Physically Challenged Citizens Of Nigeria, where there are people with different forms of disability ranging from blindness, people with spinal cord injury, people suffering from autism, the quadriplegics, among several others.
In this interview with DAMILARE OKUNOLA, he explains why they are in support of Akinwunmi Ambode of the All Progressives Congress, APC ahead of Saturday's gubernatorial election
Background
We have been in existence for over five years now and as the founder of the organisation, I must confess that it has not been an easy task for me to take all of these people along with the necessary funding required to pull through. We must appreciate Asiwaju Bola Ahmed Tinubu, Governor Rauf Aregbesola of Osun state and Femi Gbajabiamila for their unflinching support towards the group in the last five years.
Why People With Disabilities
My late dad happened to be the first mouth painter in the whole of Africa after he couldn't use his hands and legs for any activity again. After his death, I saw the need to give life to many of those living with disability, that was how the inspiration for the Physically Challenged Citizens Of Nigeria came. And since then, we have been able to make over a hundred people independent. We also have people who can now paint with their mouths too, we have a student at the Federal College of Education Oyo State (Special), as well as others who are in vocational training schools. We aid their mobility by giving them wheelchairs and several other materials. I am really passionate about them.
Ambode, Our choice
Honestly, we are all enjoying the giant strides of the present administration in Lagos state, that is why we are a bit biased with our support for a political candidate. Funny enough, JK is a really nice man whom I have personally learnt from. But, I have to be fair enough, we need to attain the 'Mega' status that we have been clamouring for in Lagos state, that is why we need the APC to continue with what Lagosians and others can visibly see and talk about. My fellows in the group have their Permanent Voters Cards, PVCs and I can boastfully say about 4, 000 voted for Buhari during the last election. And while thanking them for making the right choice last month, we are also mobilising to ensure the same thing happens on Saturday.
On Oba Akiolu's Comment
The Asiwaju has said it all; our Oba is neither a card carrying member of the APC, neither is he a politician. He spoke out of his passion for Lagos state. However, I would like to appeal to our Igbo brothers. We cannot do without them in Lagos. Our group is not limited to a particular tribe, we embrace all. The Ndigbos should not be moved by this singular act, rather, they should see this as an opportunity to pay the APC-led administration for their warm hospitality and the enabling environment to do their lucrative businesses. They should all go out and vote Ambode. The Oba of Lagos is still their father, can one say because his father abused/ cursed him, he will not return home to sleep? I am personally appealing to them to bury the hatchet and let us continue living the way we have.
NGO Supporting a political party?
This is one aspect that we thought of before throwing our weight behind a particular party. The PDP administration has failed us woefully and we are really unhappy. We had approached them before now to help pass a bill for People Living With Disability, PLWD, which will give certain privileges to people with different forms and degrees of disabilities, but they turned it down flatly. In fact, I had an encounter with a minister whose portrait was painted by one of our guys and on seeing me, he just drove me out. If I had not stood my ground, the person who did that job would probably have been discouraged. When all of these things happened, we moved straight to the opposition and they embraced us wholeheartedly, even when they knew we had nothing to repay their kindness with. So, who do you think we would have supported or canvass for? Through Ambode, we can get to our President-elect and we are hopeful that our bill shall be signed into law in no distant future.

Load more