Funsho Arogundade
As the memory of the Heineken Green Light Party, held on Sunday, 5 April at Club Quilox, is still fresh in the minds of many who attended the gig, the guest and Grammy award winning DJs, Black Chiney, revealed some of their 'secrets' about Nigeria, one of which is their plan to work with pop sensation, Wizkid.
"We love Nigerian artistes, all of them, and wouldn't mind working with all of them, but for a start, it would be Wizkid. We love Wizkid," they replied when asked if they had plans to work with Nigerian acts.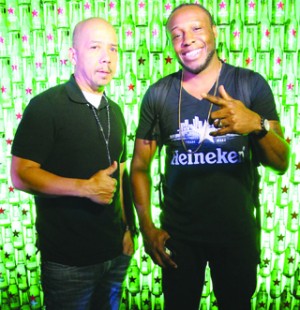 The DJs also revealed that Yemi Alade's Johnny is their favourite Nigerian song and further expressed their love for Nigerian women.
Black Chiney, the popular DJ group has performed alongside international superstars including Rihanna, Snoop Dogg, Mary J Blige, Sean Paul among many others.
Meanwhile, it was a night of fun and partying as the Heineken Green Light Party played host to A-list celebrities, who came to party with Rihanna's DJs.
Celebrities including Sound Sultan, Uti Nwachukwu, Banky W, DJ Jimmy Jatt, IK Ogbonna, TV host, Ill Rymz, Mr 2Kay, JJC Skillz joined other fun seekers to dance and sing along to the exciting music from the DJ's turntable.
Other celebrities present include Nigeria's rep at the 2014 Big Brother Africa, Melvin Oduah, Phyno, Sexy Steel among others.
The Heineken Green Light party debuted last year with three international DJs; Benny D, Babey Drew and Tim Westwood teaming up with indigenous DJs, Neptune, Spinall and Xclusive to deliver an amazing club experience for clubbers.