Jamiu Yisa
The Independent National Electoral Commission (INEC) has presented Certificates of Return to the Lagos State governor-elect, Akinwumi Abode and other elected candidates in the last general elections.
The certificates were presented to them at an elaborate ceremony held at Archishop Vinning Memorial Hall, Oba Akinjobi Street, Ikeja, Lagos, southwest Nigeria.
Out of the 20 local government areas in Lagos, Ambode won in 15 while Agbaje won in five.
The Lagos State Collation Officer, Prof. Isaac Adewole, noted that Ambode polled 811,994 votes while Agbaje got 659,788 votes, a difference of 152, 206 votes.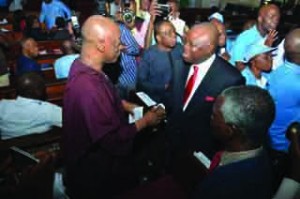 Speaking at the event, the National Electoral Commissioner for Ondo, Osun and Lagos States, Professor Akinola Salau, commended the people of Lagos state for conducting themselves peacefully and decently during the period of the elections.
He said judging by the tension generated by the keenly contested positions, pessimists had predicted a very rough year for Lagos State in particular and the country in general.
"I want to applaud you for proving to the world once again that Lagos indeed is the 'Centre of Excellence.
"Today, we are gathered here to perform the most crucial mandate of the Commission. Section 75 sub-section (1) of the Electoral Act 2010 (As Amended) states that a sealed Certificate of Return at an election in a prescribed form shall be issued to every candidate who has won an election under this Act.
"This exercise thereefore concludes the electoral process for the elected persons unless the court says otherwise," he averred.
He acknowledged the unalloyed support of the security agencies, NYSC, National Orientation Agency, lecturers of federal tertiary institutions, international sponsors, the media and others before, during and after the elections.
A mid drama played out as soon as Ambode entered the hall with his wife at about 12:37pm.
The shout of "PDP,  power" rent the air by the Peoples Democratic Party supporters who were in the hall to cheer their candidates who won different seats during the elections.
All Progressives Congress supporters responded with a thunderous abusive songs. The event was still on-going as at the time of filling this report.

Load more