Prof. Ben Ayade, the governor-elect of Cross River State and a serving senator, in an interview with journalists in Calabar, the state capital in southern Nigeria, explains the focus of his administration as well as his expectations from the President-elect, Muhammadu Buhari. Our correspondent, Reuben Bojor, was at the interactive session
Cross River State is known to be highly indebted and you are going to shoulder the responsibility of managing the economy. How are you going to go about this?
First let me say that I am inheriting a very robust and vibrant economy because it is indeed blessed with huge natural resources, most of which fall under the Exclusive List of the Federal Government. I do believe that we are going to have a healthy relationship with the centre and in spite of the looming climate, the truth is, for every single challenge, there is always a root. That we owe as a state does not make it bankrupt. You can actually convert a loan to an asset. My conviction is that I am going to bring in all my business acumen and the exposure and contact to bear on Cross River State to reconstruct and re-fabricate a new economy so that we can shift away from dependence on federation account.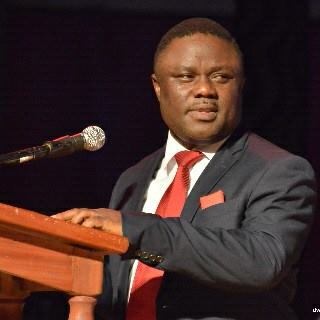 During your campaign, you promised to bring more investors into the state. Can you throw more light on this?
As we speak, I have a team from the US, Canada and UK who have been having series of meetings with me. The cardinal issue is that as a state, we owe a lot. But of course, we can always point at what the money was used for. Cross River today boasts of perhaps its tourism and hospitality potentials which are the most outstanding in the whole of Africa. But essentially, I do believe that the core focus of my administration is taking advantage of all the natural resources we've got. It is not true, never ever true, that you have to inherit plenty to succeed. So, my own take is that all the core investors that have been talking with me, the whole essence is how we can package our debt and turn it into an asset. I have a motto, a motto that every single debt that we've got, we're packaging it for sale and of course the essential element in economics is that if you want to convert a liability to an asset, you have to present the fundamentals to be attractive and exciting.
How will you handle the issue of unemployment which has become commonplace in the state?
We are a state with over one million hectares of conserved forest; an asset that has remained unexploited. We are going to move from forest conservation to forest management. We are going to be in need of two to three thousand young men who will be responsible for the regeneration of the forest, which alone is going to create more than three thousand jobs for the youths. We are also going to have a new green city of canopy trees, a special reserve center for young men to start horticultural activities. That means we are going to have a dedicated day for a green carnival. So, every visitor who is coming to Calabar will go there and buy a tree and plant so that every year you return back to Calabar, you will remember that you have a tree that you have to nurse. That way, you are creating economy for young men who are running their horticultural centres and at the same time, green-capping the city, thus reducing the toxins that are being emitted into the atmosphere. So, that is the new scientific generational statement we will make when we come into administration. We will create a robust profile that will excite any investor to come into Cross River State so that gradually, we will be moving from a civil service state to a business state. That is the model we're going to be driving. For instance, we think that as a state, we must own a shipping line. The national shipping line is long gone moribund. What is wrong with a state government having a shipping line? If we can ship in our petroleum products either internally or from foreign sources, we can run our own profile. All we need is a federal license.
Being in the opposition party, how do you intend to relate with the centre, led by General Muhammadu Buhari?
That brings me to a very critical issue, that at this point in time, politics is over, what we are going into is governance. APC or PDP is over; we must keep away from party lines and realize that parties are simply containers. If you are seeking office through the power of the peoples' votes and God has given you the office, you must therefore, go there and work for the people. It is not about APC and not about PDP. When people talk about opposition party, I don't understand. I am not in an opposition party, I am simply in PDP and PDP is gone, I am now the governor of Cross River State. I need the federal to succeed. I must therefore, tie up to the federal structure. To do so is to present to them my models and I do believe that the way and manner the President-elect will handle things will show to the whole world that he is a man of history. The way and manner he deals with the opposition party will be a critical issue. If I have a challenge that I need to dredge my Calabar river for vessels to come in, and if it is four meters and I need twelve meters and I seek approval because it's been difficult for the Federal Government to do that dredging and I have that approval waiting for too long, it will send a signal. I do believe that with somebody that has a military background, he will act fast and rapid. He will be on top of issues. While we celebrate the fact that Nigeria has come out of politics, united and strong, I believe we should take this election and politics as a watershed in Nigeria's history. Let me say this, President Jonathan has made history for himself. The first President from the Niger-Delta, and the first President to hand over to an opposition. That is not expected. People think the black man is far too behind to achieve this level of civility. He has demonstrated to the entire world that Africans have come of age. That celebration, he himself may not realize it. So, I expect that President Buhari will also realise his humility, maturity and civility and treat this nation as an indivisible entity. We cannot, therefore, afford to divide this nation on party lines. It we do that, then what will happen is that every party starts re-strategising and preparing for 2019 and governance will take the back-stage. Let us put aside party politics. And face the issue of governance. How do you intend to re-jig the bureaucracy in such a way that both the public and civil servants will key into this your business–type administration? The challenge we have is that we are running a very patronising government in Nigeria, government that promotes based on the time of service and it is designed to reflect periodicity. But all that will change. In the first three to six months, what we are going to experience is not massive employment but massive deployment. So, what we are going to do will be to improve upon the current structure. To do this, every ministry should be able to generate funds. So, while we will not sack any worker, all those who are in the Ministries doing nothing will have to be sent to the agricultural sector to work.
Talking about agriculture, how do you intend to make the sector work in the state?
The truth is, in the present circumstance, the way to go is agriculture but that will take some time, especially with the social re-orientation of our people. You see, people understand hard work to mean award of contract. But, agriculture provides opportunity for wealth creation. Now, I take a typical example, if we decide to grow maize as our core business, all our feed mills will benefit from it.
Another thing is the high tax regime in the state. How do intend to handle this when you come on board?
It is as complex as it is simple. I do not believe that you need to tax your people to prosperity but I also believe that as responsible people, you owe government the duty of paying your tax. Truth is, a balanced approach is the answer. I have also noticed that the duty of government to tax creates a burden to be responsible because when you tax somebody, you owe that person some responsibilities. When you tax people, you owe them the duty to make their business work. But we must create that balance because you need that balance for government to continue to sustain infrastructure and at the same time, allow you make money and live a good life. So, we will create a balance and review some where we need to review. We will also look at the issue of petty traders and make sure that we create the environment for their business to thrive. We are expecting more investors to come into the state so we will revisit the tax and ensure that they thrive.

Load more