Funsho Arogundade
Renowned filmmaker, Wale Adenuga has said that he has refused to shoot new film in Nigeria for some time now because he is not happy with the present structure.
Speaking with our correspondent at a breakfast meeting in Ikeja, Lagos, the founder of Wale Adenuga Productions said with the present situation of Nigeria film industry, It will be very difficult for any filmmaker to succeed.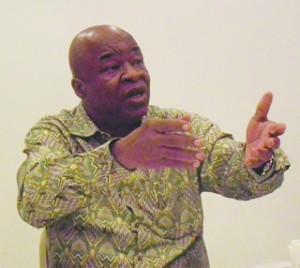 According to him, this ought to be the best of times for Nollywood given the report of the rebasing of Nigeria's economy in April last year and Nollywood was said to have contributed 1.2% to the new GDP of N80.2 trillion ( US$509.9 billion).
"The business of filmmaking in Nigeria, which is amongst the first three in the world has also become a major source of employment for our teeming youths, a reason for which we believe that we have a lot to celebrate. But a keener assessment of the situation in the industry would show that we just have a lot of glittering without substance," Adenuga said.
He added that while the industry has enormous potential that could benefit the nation and her people, there are a couple of challenges militating against the appropriate positioning for filmmaking in Nigeria.
The creator of famous Papa Ajasco brand however highlighted those challenges as contention over the history of filmmaking, lack of umbrella association, quality control, piracy and long-standing lack of government support.
"I have a feeling that I am not the only one thinking about the urgent need for us to have a national body for filmmakers but this has not worked because of the interest of people who exploit the poorly constituted guilds for their personal needs," Adenuga noted.
He however advised that the time is now for stakeholders to put all their personal ambitions aside and work together for an industry which would be a befitting legacy for our children.
Adenuga, with over four decades in the creative industry, is a holder of the national honour, Member of the Federal Republic, MFR.