The Chairman of the Assembly Committee on Budget and Economic Planning, Mudashir Obasa has been elected for the fourth time in the Lagos State House of Assembly. In this interview with Yisa Jamiu shortly after a thank you tour of his constituency, he speaks about his intervention to become the Speaker of the Eight Assembly
What informed this thank you tour?
With the new development in politics and the reality on ground, I realized that there is a need to get in touch with my constituency, the voters, and say thank you to them.
While campaigning, we went round to seek their votes and we got it. Therefore, there is the need to tell them thank you.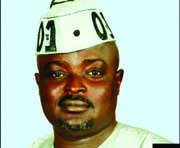 We want to assure them that we will represent them adequately and give them qualitative representation as well as improve on infrastructural development. We have ageing infrastructure that needs attention. We will improve on them and bring the dividends of democracy to their door steps.
You have been voted in for the 4th term, what is the secret behind your constant emergence as decided by the people of Agege?
This is part of the connection. Sincerely, I must be grateful to them. I started as a Councillor from this very ward in 1999-2003 and since then, they have been continuously supporting my aspiration. I have nothing to give them than to say thank you.
I will continue to seek their opinion to  do  whatever I can towards uplifting the constituency. I will also ensure that they do not regret giving me their mandate.
What should the people expect from you?
I grew up in this local government and I have lived all my life here in this locality, definitely I know what their need is. In terms of infrastructure, I think road is the most essential. During the thank you tour, you will see that most of our roads are bad and begging for attention.
We will ensure that we do something about it. I am not saying everywhere will be  tarred, but we will do more than what we have done in the outgoing administration.
As a senior member of the Lagos State House of Assembly, there is this speculation that you are aspiring for the position of Speaker of the House. How true is this?
Well, it is not out of place for me as you have observed. I am one of the most senior members of the House. Out of  three of us coming for the 4th term, I think two of us are aspiring. Three members who are coming for the 3rd term are also interested in becoming Speaker.
I'm one of the strong and serious contenders for the position of Speaker and I am sure the party leaders are there to decide what would happen. Don't forget that we also have leadership in the House and my colleagues are also in a position to say what they want.
Are the people of Agege in support of your intention to become the Speaker?
You are part of the tour and you heard what they have been saying. It is one of the reasons why they voted massively for me and they have also been begging me to go for it.
In terms of politically high ranking positions, Agege is lagging behind. We don't have a Senator, we've not had a senior member in the political hierarchy for a very long time and we have been dishing out the votes sustaining the party. We should be compensated for this and I think the best they can do is to concede the speakership position to Agege for the benefit of the people.

Load more