Damilare Okunola
Zenith Bank Plc, One of Nigeria's leading financial institutions, has unveiled its sponsorship of a club tennis championship at the tennis section of Ikoyi Club 1938, Lagos.
Speaking during a media parley to brief journalists on the modalties for the event, Justin Osogbo, representative of the bank, disclosed that this partnership with the Ikoyi Club is beyond mere Corporate Social Responsibility, CSR, but a partnership which will stand the test of time.
According to Osogbo, "this is a union we see beyond our Corporate Social Responsibilities (CRS) because it is something we will be doing every year just like we have been doing with the women's basketball league in the country.
"The media representatives are aware of how we started the sponsorship of the national female basketball league and how we have sustained it over the years.
"I am very sure it is going to be the same experience as far as this tennis tournament is concerned. We need to start first and see how far we can move with it."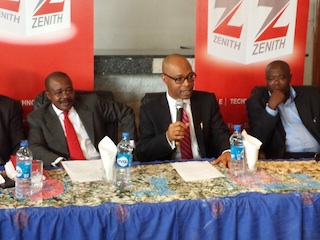 Speaking also during the N4m event, president of the tennis section of Ikoyi Club, Ede Osemwengie, disclosed that teams will compete in Red and Grey groups which represent the colours of the sponsors.
With over 80 players participating in the event which served off on Monday, Osemwengie assured that the tournament will match the standard of the sponsors as a way of promoting Zenith Bank's Corporate Social Responsibilities in the sport sector.
He said: "We have the Tennis Masters, which is for the top eight male and female players in the country. This is part of Ikoyi Club's way of developing the game of tennis in the country.
"This is a closed tournament, which is strictly for members of this club. It is not meant for any professional. It will further help sustain the game of tennis in Nigeria even though it is for club members only."
The top winner in the Singles' event will pocket N60, 000 while group participants get N40, 000 each for their efforts.
The grand finale will hold on Saturday, 25 April, 2015 at the Ikoyi Club 1938.
Mr. Justin Osogbo (middle), while addressing the media during the briefing at the Ikoyi Club 1938, Ikoyi, Lagos, to officially announce the commencement of the Zenith Club Tennis Championship on Monday, 20 April, 2015.
Load more