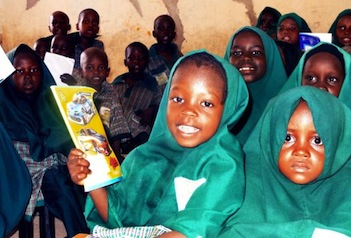 The Head of Guru Village, Alhaji Mohammad Baba, said over 2,000 primary school pupils study in two classrooms in the village near Bauchi, Bauchi State.
Baba disclosed this during interview with NAN in Bauchi on Tuesday.
According to him, the leadership of the village has been making efforts to ensure that more classes are erected to ensure atmosphere conducive for the school children.
He said members of the village contributed and erected two temporary classrooms but were destroyed by rain storm.
Baba said after the destruction of the classes, two philanthropists in the village provided rooms in their houses to make four classes.
According to him, 1,000 of our school children are receiving lessons in just two classes provided by the residents.
"The village is more than 100 years old but the development of education in the area is very low."
The community head said plans were under way to visit the State Universal Basic Education Office for another round of discussion for the construction of more classes in the village.
According to him, the leadership of the village has visited the board about seven times discussing the same issue.

Load more