Henry Ojelu
A prison officer, ACP Abdullai Garba on Wednesday told an Ikeja High Court that the $330,000 General Ishaya Bamaiyi claimed was fraudulently taken from him at the Kirikiri prison by a court registrar was not in the prison record.
Testifying before Justice Lawal Akapo, Garba claimed that contrary to prison rules that requires that any cash brought in by inmates be duly recorded, the $330,000 did not pass through the prison records.
A court registrar, Ms Rosulu Idowu is standing trial for allegedly collecting the $330,000 from General Bamaiyi under the guise that the money was meant for his legal representation by Chief Afe Babalola (SAN).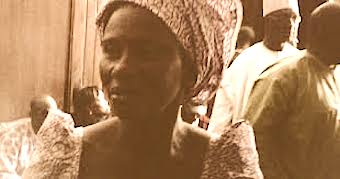 Mrs Rosulu was also alleged to have facilitated the fraud which was allegedly masterminded by Fred Ajudua along with others now at large.
While testifying before the court earlier this week, Bamaiyi said that Ms Idowu conspired with Fred Ajudua to defraud him.
He insisted that the court registrar came to the Kirikiri prison to collect the money from him.
Corroborating Bamaiyi's claim, ACP Garba told the court that he witnessed the $330,000 transaction between Bamaiyi, Ms Idowu, and Fred Ajudua.
Garba recalled that the defendant (Rosulu) visited General Bamaiyi and Ajudua in prison three times between October and November 2004.
During cross-examination by counsel to the defendant, Mr. Bamidele Ogundele, the witness claimed that he was present when money exchanged hands between Bamaiyi, Ajudua and Rosulu.
"I was present when Rosulu visited the prison three times in 2004. Specifically on the 23rd of October, and on the 6th and 20th of November.
"On the third occasion when she visited Bamaiyi, she was accompanied by Ade Bendel and one Jonathan. I was present when the money was brought in a Ghana must go bag, and I saw thirty bundles on ten thousand dollar notes, which totalled $330,000," he said.
Garba however said that when he inquired what the money was meant for,  Bamaiyi replied that it is meant for legal fees.
He also added that there was no written evidence that Rosulu (defendant) visited Bamaiyi and Ajudua in prison.
"I can recognise the defendant because she visited Bamaiyi thrice in the prison. Though people intending to visit special inmates like Bamaiyi are required to write applications and submit their passport photographs to be intensively verified before they can be allowed access, Rosulu somehow used the influence of Ajudua to visit Bamaiyi," he said.
Before adjourning the matter till 11 May, Justice Akapo emphasised the need for the matter to be concluded on time.

Load more