Damilare Okunola
No fewer than three top tennis players in Nigeria have confirmed their participation in the maiden edition of the Tombim Abuja Open.
The tournament, billed to hold from Monday, 27 April- 10 May, 2015 at the 'Package B' of the National Stadium, Abuja, has also drawn top stars around the world.
The $15, 000 (with hospitality) event which will hold over two legs had been hailed by the players when it was disclosed that it was going to kick off this year.
Top ranked player, Clifford Enosoregbe stated that the tournament will present him an opportunity to garner ATP points apart from the Governor's Cup Lagos Tennis Championship which holds in October every.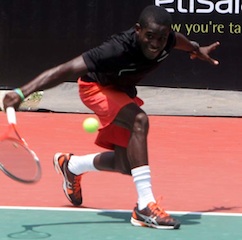 Enosoregbe, who ended last year as Nigeria's number one male player for the second consecutive year, noted that, "I am prepared for the tournament and I will give it my best shot.
"I hope to get ATP points from the event so that I can get top ratings ahead of other Futures events."
US-based youngster, Sylvester Emmanuel, also confirmed his participation, explaining that, "I shall be in the country any moment from now to consolidate on my training which has been in top gear since I left for the United States."
In the same vein, Moses Michael, winner of last year's Abridged Governor's Cup, said that his participation is non-negotiable, especially with the event holding in his Abuja base.
Michael, who recently returned to the country from a two-month tour of Egypt, said: "since I came back from Egypt, I have been training ahead of the competition. I believe that the wealth of experience that I have garnered while playing in Egypt will help me perform well."

Load more