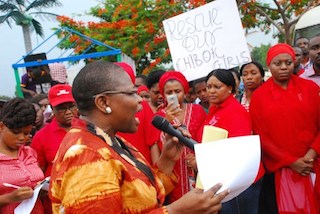 Oby Ezekwesili, a former minister of education and one of the leading campaigners of #BringBackOurGirls has said that the rescue of 200 girls and 93 women by Nigeria troops shows that miracle does happen.
She said this in a series of tweets shortly after Nigerian defence spokesman, Chris Olukolade stated that: "Troops have this afternoon captured and destroyed three camps of terrorists inside the Sambisa forest & rescued 200 girls & 93 women."
FLASH: Troops this afternoon rescued 200 girls & 93 women from #Sambisa Forest. We cannot confirm if the #ChibokGirls are in this group /1

— DEFENCE HQ NIGERIA (@DefenceInfoNG) April 28, 2015
Like millions of people around the world, Ezekwesili who was celebrating her birthday wrote:
WE believe in MIRACLES, Lord! HOLDING OUR PANTING HEARTS; BURSTING WITH HOPE. OUR #ChibokGirls? #NeverToBeForgotten! #NeverToBeForgotten!!!

— Oby Ezekwesili (@obyezeks) April 28, 2015
Prior that she said: "WE rejoice for news of rescue of several of our female citizens from Sambisa Forest by our military, adding that, "we are super anxious to hear the report of the interim evaluation of the 200 girls and 93 women rescued by our military. Will be a long night," she said.

Load more