Abiodun Onafuye/Abeokuta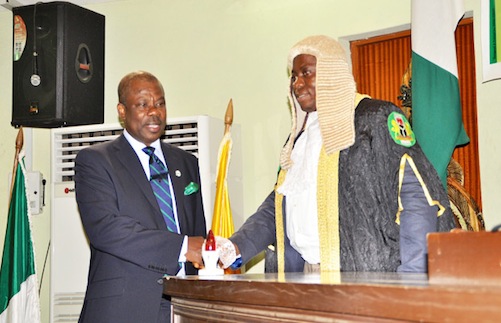 Members of the Ogun State House of Assembly today passed into law a bill for the establishment of the Ogun State Citizens' Right Directorate.
The motion for the third reading of the bill was moved by the APC Whip, Oludotun Fasanya, representing Abeokuta South 1 State constituency and it was seconded by Hon. Olakunle Oluomo, Ifo 1 State constituency.
Explaining the rationale behind the bill, the Chairman, House Committee on Justice, Ethics and Public Petition,Hon. (Barr.) Samson Onademuren, (Ijebu North East State constituency) said the passage of the bill would assist the less privilege and protect the right of average citizens in the state.
He posited that the bill would give legal backing to its activities in line with the provision of the law without depending on the State Ministry of Justice.
The lawmaker said the directorate would be empowered to handle cases that borders on human rights and to take up cases on behalf of individuals who did not have resources to secure the services of lawyers.
According to him, "The directorate will serve as a private lawyer to the citizen, the only different is that they are going to be paid by the State government. We have this law already existing in Lagos and some other States in the country, it is good that Ogun State has also passed the bill into law today," he stated.
The lawmaker said protecting a citizens right would go a long way in putting smiles on the faces of the less privilege citizens in the state.
The Speaker of the House, Rt. Hon. Surajudeen Ishola Adekunbi has directed that clean copy of the bill be sent to the state governor, Ibikunle Amosun for his assent.
Meanwhile, two other bills were passed through the second reading at the plenary session today on the floor of the House.
The bills are the one to establish the Ogun Sports Development Trust Fund and Management Committee Law and that of Ogun State Water Sector Law.
Commenting on the Sports Development bill during the plenary, Fasanya said the bill would enable the state government to raise fund that was required to equip and provide more facilities in the area of sports, where they were lacking.
"Sports is a means of engaging the youths; if there are adequate sporting equipments, the youths will be taken off the street, crimes and unemployment will be reduced," the APC Whip in the House opined.
He also said that the bill would allow grassroot participation in sports and would also raise money through private and public sector.
Speaker of the House, however referred the two bills to the House Committee on Youths, Sports and Employment Generation and Committee on Water Resources and Energy.
The House is adjourned till this next Thursday.

Load more