Funsho Arogundade
They have provoked so many conjectures on social media. Is it an album? A movement? New show? Dreadlock competition? Meet the 'miscreants' – Ehiz & Onos.
Two of Nigeria's young media personalities seem to have something up their sleeves. They have managed to catch attention by their antics on social media, as well as released some mischievous promo photos.
While skeptics guess these two are working on an album, a couple of days ago, the two finally unveiled their antics and called themselves "Miscreants INC".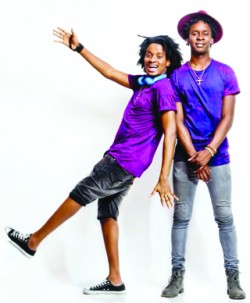 When asked about "Miscreants INC" by blogger BigTimi, here's what they had to say:  "When four or more creative minds gather, ideas must explode. I just want to execute them. People always want something sparkling new and we got you, "said Onos.
Adding to the suspense, Ehiz, popular MTV Base presenter said: "They say we are the generation to bring change. I be bus conductor so I get plenty change."
P.M.NEWS Entertainment Café learnt that the duo are having a feel good entertaining magazine show debuting on several television stations across the country soon.

Load more