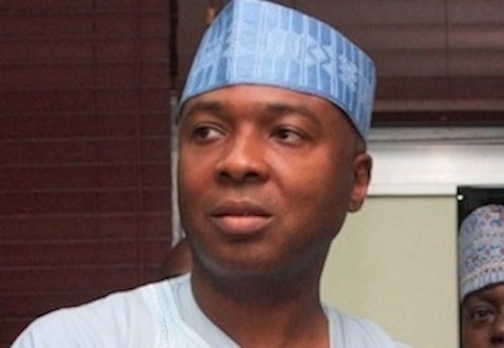 The re-elected Senator for Kwara Central and leader of the All Progressives Congress, APC, in the State, Dr. Bukola Saraki, in this interview he granted journalists at his Ilorin residence, bared his mind on the 2015 general elections and sundry national issues. Stephen Olufemi Oni was there for TheNEWS
What is your take on the just concluded general elections?
This victory is not only for the APC, it is for all Nigerians. I say this with all sincerity because it was the determination of Nigerians and their commitment to stand for what they believed in that got us thus far. In the past, Nigerians and voters in general would not come out to vote and even when they came, it was not with conviction; they were frustrated with the process. But this time around, it was clear that Nigerians were convinced that APC represents change and it was time for a new Nigeria. I always believe that we are opening a new chapter in this country. Nigeria can never be the same again and that to me is the greatest achievement. The victory of APC in the elections is small to me compared to that of Nigeria. The Nigeria we are starting now is the one all of us have been craving for. We will now begin to see good governance. Now, all our elected officers must be accountable and deliver dividends of democracy to all. In Kwara state, the way politicians in the opposition parties behave is that Kwarans are fools.
They go away for three and half years and come back six months to elections and believe they can take the people for granted. They are not the kind of people to be trusted with leadership of the state. Whatever you might say about APC, they are the people that are always there with the people. Everybody knew how President Goodluck Jonathan told the world that they would take Kwara back to PDP. Normally, under that kind of situation when people see almighty power, the tendency is for them to desert you. But the people of Kwara did not desert us and that is why I am entirely grateful to them. They stood by us despite the threat coming from the centre. The period was fraught with intimidation, blackmail and all sorts of harassment.
There was nothing they did not use to threaten the people but Kwarans say no and they gave us a result that is even better than that of 2011. In 2011, we did not have the whole 24 members of the state House of Assembly which the APC now enjoys. For Kwarans, all I can say is that we will continue to do our best to justify the confidence they have reposed in our party under our leadership. And at the national level, it is our honest view that we have now put in place a more credible person, General Buhari, who will be accountable and ensure better funding at both the state and local governments levels. We have seen what has happened to the exchange rate with the naira appreciating for about 30% just for the fact that President-elect Buhari is coming and the APC is forming the government.
As a chieftain of APC, what agenda will you set for the incoming Gen. Muhammadu Buhari administration?
The President-elect, in the campaign, was very clear on this. Issues of corruption, insecurity and unemployment, I think, are three critical problems plaguing Nigeria which he promised his administration would tackle headlong in order to rein in insurgency across the country, most especially the Boko Haram, and restore credibility and belief in our military. There will be zero tolerance for corruption and from the backdrop of that, you begin to see revenue coming up and you will have more money for infrastructural development.
How about the quality of people forming the President-elect's cabinet?
I think the President-elect has emphasized issues of integrity and capacity. You have also heard what I just talked about the challenges ahead; they are, no doubt, daunting. It is not going to be a tea party. There is a lot of work to be done, we have the mess to clean up. We also have expectations to meet for all the people that have gone around on the change slogan. To expect immediate result, we must have people that will hit the ground running and be able to perform. The issue now is to secure balance between the political expectation of people who have supported the party to win and party performance. It is clear that with the kind of mandate we have been given, we must ensure we perform and we succeed so that we do not run into the same problem as the PDP.
What is your take on asset declaration?
We are just making a lot of noise of it. Definitely, by and large, there is no public servant that would not declare his assets. Now with the FOI, you must declare your assets with the Code of Conduct Bureau and you declare it in public. But I don't think it is asset declaration that would make you less corrupt or more accountable. I think it is your own individual commitment to your party and the leadership provided. Leadership is very important because if the leader leads by example, honestly, things are bound to change and will change. But if you are not accountable and you are stealing government money, people will not vote for you, they will vote you out as it happened to the PDP on March 28. Honestly, March 28 was a turning point in the history of this country.
With the influx of people into the APC, is Nigeria not drifting towards a one-party state?
Honestly, one party is not good for our democracy. I believe that our democracy is beginning to mature and all hands must be on deck to nurture it to fruition. It is important for us to see our sacrifice and service and not about personal gain. When somebody after election does not have any major or genuine reason for defecting and he does that, then he is not providing good leadership or prepared to serve the people. So I do not support the issue of one party. In Kwara state, some people said they are freedom fighters, fighting for freedom. So their freedom fighting should not end after the last election, they should remain in their party to continue to do just that except they were only deceiving the people to use freedom to try to get what they wanted. The truth is that it is very clear that they were not fighting for any freedom but for their own personal aggrandisement.
How will you assess the performance of the INEC Chairman, Prof. Attahiru Jega?
This is the man that has shown us in Nigeria that we have credible people, we have people that can stand for what they believe, and that will do the right thing despite all the pressures. But what I think is more important as he (Jega) leaves, he should ensure that the institution he is leaving behind will continue along this line, to ensure that his successor also has those principles that he brought in. And he should play a key role in ensuring that he gets a good successor so that the good things he had done will be sustained. I think that is when Nigeria will be better for it.
What is your comment on Rivers State's elections?
I don't think anybody can deny the fact that compared to other states of the country that there was something wrong in the Rivers State's elections. That already raises a red flag that something had gone wrong there that needs to be investigated. I think it is only fair for the people of Rivers to have an election similar to what happened in other parts of the country. There is nothing that should be special about Rivers that people should be deprived of anything that is not up to standard that is acceptable today in what you call election.
I think the responsibility lies on INEC and elections petition tribunal to rectify the anomaly. I think more importantly, we must ensure that people that violated the electoral laws are punished. It is the only way to make people in subsequent elections to respect the law. We must begin to hold people responsible for the actions that they commit during elections. In all civilized societies, going for an election should not degenerate to the level of one's life being threatened.
What is your reaction to the rumour that the incumbent Kwara state deputy governor will be replaced by your sister, Senator Gbemisola Saraki?
I think that is just a propaganda and cheap blackmail, there is no iota of truth in it. You all know what the constitution provides on the issue. It is clear to some of these people that this kind of cheap propaganda doesn't sell. I think that is just garbage talk.

Load more