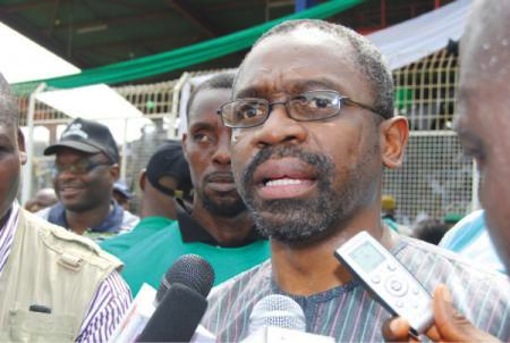 Some members of North-East caucus of Peoples Democratic Party (PDP) in the House of Representatives on Monday, debunked reports of endorsement of Rep. Femi Gbajabiamila (Lagos-APC) as speaker of 8th National Assembly.
Speaking at a news conference in Abuja, spokesperson of the caucus, Rep. Binta Bello (Gombe-PDP), also said the group had not endorsed Muhammed Monguno
(Borno–APC) for the position of the deputy speaker.
According to Bello, the caucus did not at any time meet to arrive at the decision to support any of the candidates jostling for the speakership of the House of Representatives.
She said that members of the group were waiting for the zoning of the House's leadership by the All Progressives Congress, before concurring with other lawmakers on the issue.
NAN recalls that no fewer than 22 members-elect from the North-East, led by Rep. Goni Lawan, on Friday, claimed that they had endorsed Gbajabiamila for the speakership of the Green Chamber.
"North-East caucus did not endorse Monguno and Gbajabiamila for Speaker,'' she said, adding that some members of the group were surprised to have seen their names in some national dailies as supporting Munguno and Gbajabiamila for a joint speakership ticket of the House.
"We wish to state categorically clear that we were neither consulted nor informed about the publication before it was published.
"We want to make it abundantly clear that at no time did we sit to endorse Monguno from North-East and Gbajabiamila for any joint ticket.
"Some of our names were only added to the list by these desperate people," she said.
According to Bello, the group sees the publication as a pattern of campaign depicting the height of desperation.
"The sponsors of the publication also used attendance list of one of the consultative meetings held by one of the aspirants to mischievously say that we endorsed Gbajabiamila and Monguno," she added.
She, therefore, urged the sponsors of the publications to desist from misleading the public.
"As distinguish members of the 8th Assembly, we should at all times conduct our affairs honourably and with decorum.
"As loyal party members, we are still awaiting the decision of the leadership on zoning of National Assembly leadership positions.
"Also, those of us who are members of the PDP, our party has not taken a stand yet on who we should support and until such time, we will not be party to any endorsements," she stressed.
Bello listed lawmakers in the group she represented and who distanced themselves from the endorsement as Ahmed Yarima, Haliru Jika, Salisu Ningi and Abdulrazaq Namdus.
Others are Adamu Kamali, Barden Garbas, Ibrahim Baba, Sabo Garba and Ali Isa.

Load more