Taiwo Adelu
The ongoing 2015 Central Bank of Nigeria (CBN) Senior Tennis Championship witnessed an upset early today as Russian-born Nigeria star, Ifidzen Melissa kicked out second seed in the Women's Singles decided at the National Stadium, Surulere, Lagos.
Melissa got the better out of the first set of the encounter winning 6-0 with Sarah, winner of last year's Governor's Cup Lagos Tennis Championship winning the second set 6-4, but a more determined Melissa carried the day with an emphatic 6-0 win in the third set of the match to book a place in the quarter final of the competition.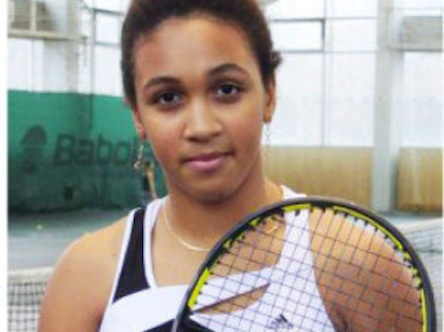 Defending champion in the Women's Singles, Christy Agugbom had an easy win over youngster Angel McCleod in straight set of 6-1, 6-4.
Men's Singles top seed Clifford Enosoregbe beat Christopher Edward in another straight set of 6-1,6-4, while the defending champion, Abdulmumini Babalola defeated Eludoyin Michael 6-0,6-2.
Michael Moses stopped Destiny Da Silva in 6-4,6-2 game. Thomas Otu was too much for Kehinde Bikom who he beat 6-3,5-0 (retired), while Candy Idoko sent Odeyemi Opeyemi out in the second round tie that ended 6-1,6-2.
John Otu won his match against Yakubu Hassan 6-2,6-1, while Augustine Nwokedi walked over Henry Atseye.
Matches in the doubles events of both mena dn women's categories and games in the wheelchair tennis were ongoing as at the time of going to press this afternoon.
The tournament, which had served off at the weekend at the tennis courts of the National Stadium, Lagos, would have its quarter final matches decided tomorrow with the final ceremony coming up on Saturday at the same venue.
Load more