Kazeem Ugbodaga
Officials of the Lagos State Taskforce on Environmental and Special Offences (Enforcement) Unit have launched a fresh onslaught in Oshodi, arresting 34 suspected hoodlums in the process.
The taskforce stormed Oshodi between 1.00pm and 2.00pm on Tuesday with Black Maria and armed policemen and immediately swung into action.
At least 34 suspected miscreants were arrested. Nine of them are underage.
They were conveyed in the Black Maria to the taskforce headquarters at Alausa where they were screened.
Two of the suspects were released after it was found that they were arrested in error, while 32 others were kept in custody.
Taskforce Chairman, Bayo Sulaiman, a Chief Superintendent of Police, CSP, said the hoodlums were arrested with hard drugs (weeds and stun) in large quantities.
"The taskforce got information that a woman was attacked earlier in the day by hoodlums at Oshodi and had been admitted in the hospital. This prompted it to swing into action," he said.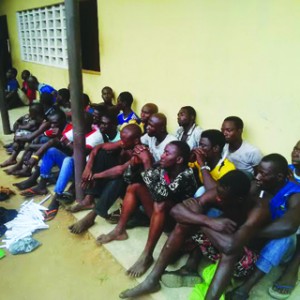 He said there had been incessant complaints by residents of Oshodi over disturbance by hoodlums, saying that government would not allow the hoodlums to return to Oshodi it cleared some years ago.
"Whenever we raid them like that, some of the hoodlums will go into hiding for sometime. We are still very much in Oshodi and there was no time our men left there," he said.
Sulaiman warned hoodlums to vacate Oshodi as the police would go after them and bring them to book.
He said the taskforce deliberately slowed down its activities in Oshodi during the election period so that it would not be accused of taking sides with any political party, adding that now that the elections were over, the taskforce would ensure that there is sanity in Oshodi.
He disclosed that 25 suspected adult hoodlums would be charged to court soon while the underage among them would be taken to the Lagos State Remand Home for rehabilitation.

Load more