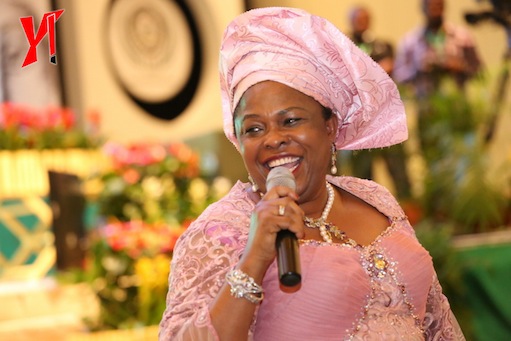 Wife of Nigeria's president, Patience Jonathan has stated that she will work with the wife of the president-elect, Aisha Buhari to better the lives of women across the country.
She said this in Abuja during the inauguration of the Defence and Police Officer's Wives Association's (DEPOWA) skills and acquisition centre.
She thanked other women associations for their role in uplifting Nigerian women. "I thank you, Nigerian women for all your support and I will make sure that I support my sister the incoming first lady to make sure Nigerian women are safe," she said.
Jonathan also condoled with the families of fallen heroes who had paid the supreme price.
The first lady advised members of the association to continue to support their husbands, adding that as women, their role in nation building was very critical.
"May I, therefore, offer my heartfelt condolences to the families of officers and men who have paid the supreme price in order for us to live.
"We thank God our military is winning the battle against insurgents in the North East.
"If they can excel in their peacekeeping operations all over the world, I am convinced that they will definitely excel at home and I am also confident that by God's grace we will conquer.
"I will like to challenge members of this association to continue to be a huge inspiration to their husbands as you offer constructive advice to them at all times.
"Let us continue to embrace peace and employ dialogue in addressing all our differences."
She commended the leadership of the association for initiating the project, saying it would improve the quality of the lives of families of the fallen heroes and members of the barrack community.
In her remarks, the President of DEPOWA, Mrs Mary Badeh, said that the establishment of the centre was to meet the needs of members of the barrack community.
She said that the centre was a demonstration of the association's firm commitment to empower women and youths.
"It is indeed saddening to observe the hardship experienced by some dependents of personnel, particularly those of our fallen heroes, who due to the absence of an alternative means of income go through untold grief.
"It is my humble submission therefore that DEPOWA is constantly making choices and constantly creating new experiences.
"Although, we may be affected by circumstances beyond our control, we have essentially decided on the direction to follow which is the path of development, emancipation and humanitarian services to the needy."
NAN reports that the centre had been adequately equipped to train people in Information and Communication Technology (ICT), tailoring, catering, hairdressing and soap making, among others.

Load more