Harrison Iyoha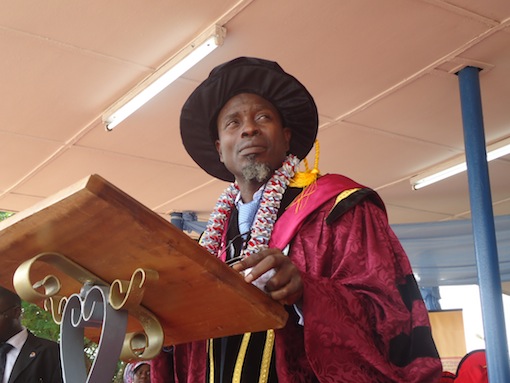 Four days into their first semester exams, students of the Lagos State Polytechnic, (LASPOTECH) Schools of Part-Time Studies Regular, SPTSR are in a last minute rush to pay their school fees so as to be able to write their exams.
Our reporter gathered that some students have already fallen victim of the school policy of no school fee, no exams as many of the students who are yet to pay their school fees have been prevented from entering exams hall which amounts to an automatic carryover.
P.M. NEWS Campus Square discovered that the majority of the students studying for National Diploma and Higher National Diploma are yet to pay their fees and those mostly affected are the new intakes; ND 1 and HND1 who always pay higher to regularise their admission.
As new intakes, they are expected to pay acceptance fee which means the students have accepted the admission offered by the school. This fee must be paid before such a student can access his/her portal before the school fees can be paid.
A visit to the Department of Mass Communication revealed that the students were the most affected by the school policy of no school fees, no exams. At the department, our reporter saw some students looking dejected and unhappy because they were unable to write the day's paper.
In a chat with our correspondent, one of the affected students called Mike said that he had to face the penalty because he was yet to pay his fees. "With the way I'm seeing things, I think I will defer my admission because I am yet to meet up with the amount required for me to write my first semester examination and this is very strange to me compared to where I am coming from.
"My former school always admits students to write their first semester exams even when we are yet to pay our school fees because they know we will surely pay before the second semester exams but that is not the system here. I feel sad this is how things play out.
"The first two days our exam started was okay because they allowed us write the papers. But that suddenly changed when I got to my exam Hall for Theory of Mass Communication. I was shown the way out of the exam hall when external invigilators came asking for our exams docket. When I couldn't present mine I was asked to leave the exam hall," he said.
He added: "I have made some payments like the ICT and acceptance fee, leaving me with the mandatory 60 per cent instalment of the tuition fee. Many of my mates coming in as freshers are not finding it funny because only 70 percent of my classmates have paid theirs as at the first week of our exams and some who had part of their fee paid theirs last week and some of us who are yet to pay and were sent out of the exams hall on Saturday had to go begging friends in class to help them do last minute transfer to enable them pay since the school system of payment is online."
Another student from Mass communication student department, who refused to give her name, explained: "My parents have been trying to raise money to enable me pay my fees in order to write this exams but all their efforts failed to come to reality. I have paid my acceptance fee N13,300 and third party payment which is N2,050 only for me to fall flat and was thrown out of the exam hall.
"Of the N42,280 which is the 60% part payment, my parents were able to raise N30,000 which is not up to what I should pay so as to sit for the exams. Now that I'm unable to come up with the money, it means that I will be going back home and to come back next year."
Most of those affected by this development are the newly admitted National Diploma 1 and Higher National Diploma 1 students that are hoping regularize their admission. From our investigation, students of Mass Communication are paying more than other departments. HND1 Mass Comm students pay N13,300 acceptance fee, N2,050 for third party payment and N70,500 as school fee.
The inability of a student to pay the mandatory 60 per cent means that he or she will not write the first semester exams and likely withdraw.

Load more